trapped in revamp hell
Staff member
Joined

Nov 1, 2009
Messages

17,695
Awards

36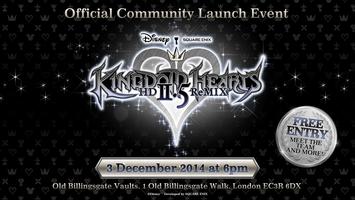 Kingdom Hearts HD 2.5 ReMix will be releasing in western territories on December 2nd (NA), December 4th (PAL) and December 5th (EU). Square Enix's North American branch has prepared a special launch showcase to celebrate the game's release at Walt Disney Studios in Burbank, but this left European fans wondering if they would also be able to experience one in their own region as well.
Well, Square Enix Europe has just announced today that they will be hosting the official Kingdom Hearts HD 2.5 ReMix Community Launch Event in London on December 3rd from 18:00 to 22:00 GMT!
Event Details:

MEET THE CO-DIRECTOR AND PRODUCER IN A LIVE PRESENTATION
EXPERIENCE THE TWILIGHT TOWN BALCONY
JUMP INTO A KINGDOM HEARTS WORLD AND MAKE YOUR OWN FLIPBOOK
WIN EXCLUSIVE PRIZES
AUTOGRAPHS, RAFFLES...AND MORE!
ENTRY IS FREE!
Tickets will be available starting at 12:30 GMT on November 21, and will be limited to only 1 per person. You must be 16 or older to attend.
Source: Eventbrite