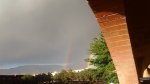 Joined

Nov 2, 2011
Messages

5,448
Awards

2
Age

30
Location
Website
(I am honestly not sure where I should go for the first chapter. This is essentially a pre-midquel to Kingdom Hearts Birth By Sleep and Kingdom Hearts 1. I am honestly not sure how I am going to get Master Xehanort to kill his own grandson, Xen. All I know is that he took his grandson in as an apprentice prior to Ventus and that somehow Xia became a master).

Prologue


"I HATE YOU! I HATE YOU! I HATE YOU!" Sven, a blonde-haired teenage boy screamed as he kept banging his head back and forth on a brick wall. The rain came falling down and mixed with his tears of anguish. He wished he was dead after what a certain bald-headed demon put him through. Sven summoned his keyblade, which felt really heavy in his hands now. MASTER, I'LL SURPASS YOU!" Sven said as his silver-blue eyes glowered hungrily at the skull-inspired weapon of the heart.

"SOMEDAY….MASTER...I'LL...SURPASS...YOU!" Sven yelled as he used his keyblade to hoist himself up. He couldn't care less that his whole demeanor was appalling. He couldn't care less that his clothes had been reduced to mere rags. He couldn't care less that his body was battered and bruised. All that was on his mind was 'SOMEDAY, I'LL GET YOU, MASTER! "
His battered face formed into a devilish smile. His jaw widened and a menacing, demented laugh roared out. It echoed through the dank alleyway that the youth had been abandoned at. The youth would get his teacher back for his experiments and nearly killing him

.
~~~~~~~~~~~~~~~~~~~~~~~~~~~~~~~~~~~~~~~~~~~~~~~~~~~~~~~~~~~~~~~~~~~~~~~


The echoes of agonizing screams echoed throughout the hallway. A blonde-haired man paced back and forth in the waiting room, occasionally stopping to look at the clock. "What's taking her so long?" the man asked himself.
"Daddy? Is mommy okay?" a certain silver-haired girl asked.
The man stopped pacing for just a brief moment to comfort his four-year-old daughter, Xia. "Yes darling, mommy is just doing fine…." the man said as he patted the little girl's silver pigtailed head.


"AAAAAAAAAAAAAAAAAAAAAAAHHHHHHHHHHHHHHHHHHHHHHHHHHHHHHHH!!"
The little girl, Xia cowered and held her ears closed. "If mommy is okay then why is she screaming?" the little girl demanded as tears threatened to drop from her eyes.


The man was at a loss for words. He didn't want to scare his daughter by telling her that mommy was going through the deadly labor of delivering her brother. She was too young and too innocent to know about the cruelties of this life. The father hugged his daughter and a voice came from the intercom along with a sad nurse.


~~~~~~~~~~~~~~~~~~~~~~~~~~~~~~~~~~~~~~~~~~~~~~~~~~~~~~~~~~~~~~~~~~~~~~~~


The man went over to his wife. Her dark skin and her long, white hair were drenched in sweat. The man saw the look of death on his wife's face and solemnly walked out of the room, even though his little daughter's cries pleaded to come back. Sven, the father of two children had lost something very important to him...his friend.


~~~~~~~~~~~~~~~~~~~~~~~~~~~~~~~~~~~~~~~~~~~~~~~~~~~~~~~~~~~~~~~~~~~~~~~~


Several years had passed, Sven, although never a master had taught his two children; Xia and Xen the basics of the Keyblade. They were thrilled when they first summoned their own weapons. So excited that Sven remembered his late wife's face. She was the one that had taught the master-wannabe how to use the keyblade. She was the one that never gave up on him while their fellow apprentice and master did. She was the reason for his very existence. The happiness of seeing their two children clash and play made him chuckle. He knew he could never teach them. He knew he wasn't fit to be their teacher. Only one man was capable of training them. Sven looked at his two children.
​

A knot got caught in his throat as he looked at the two. The two beauties that had been given to him...one of them would be taken from him. Sven would protect one of them, Sven would protect Xia. After all, she was the spitting image of his late love.