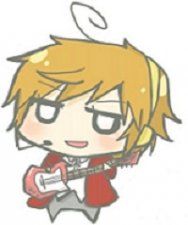 Joined

Mar 28, 2014
Messages

1,704
Awards

4
Location
This guide is meant to help new players start out their game.
Refer to this guide on how to navigate through the game:
http://forums.khinsider.com/kingdom-...earts-chi.html
Refer to this guide for promptly updates on the latest limited boss and heartless missions:
http://forums.khinsider.com/kingdom...eartless-raid-boss-guilt-lux-missions-22.html
Here is the JP wiki where you can find all card information:
KINGDOM HEARTS ¦Ö[chi] ¹¶Î¬ Wiki*
First off, after you have created a JP Yahoo account or Hangame account, begin your journey from:
KINGDOM HEARTS χ[chi]
. After the introduction scene, you will be able to create your avatar.
You will then be brought to this page. Click on the Bear, the yellow arrow may be on another animal but it does not matter, just click on the Bear. Select the left button again to confirm.
The tutorial will begin now. If you do not understand Japanese, feel free to skip it.
You will then be on the
World Selection
screen. Go back to the
Home Page
first for more scenes.
Your KHχ journey will now officially begin!
_______________________________________________________________________________________________
Here is an explanation on how this game works:
1) You have two gauges, AP (Action Points) and BP (Battle Points)
- You have a base of 50 AP and 5 BP. Each AP recovers every 3 minutes, each BP recovers every 15 minutes
- The amount of BP you have is fixed
- Every additional party member you have adds 1 AP to your total. Using the item "AP+" increases your AP gauge by 1
- AP is used to fight field Heartless, open treasure chests and pick up field materials. While BP is used for boss fights
- Potions are used to recover AP, 10 AP per Potion, Max AP per Mega Potion. Ethers are used to recover BP, 1 BP per Ether, 5 BP per Mega Ether
2) Leveling Up
- Leveling up in Chi increases your cost limit, for you to equip stronger cards in your deck. As well as a tiny amount of HP (absolutely insignificant).
- It also fully restores your AP and BP gauge.
- Level 87 is all you need to equip the strongest cards. However, upon reaching Level 101, 105, 110, 115, 120 and 201 onwards, there are great rewards for you to receive.
3) LUX
- You gain LUX from defeating field Heartless and hitting Raid Bosses.
- Every week, there are LUX rewards that you can earn by achieving a certain amount of LUX
- There is also a weekly LUX ranking where you can gain Mog Medals.
4) Card System
- You can earn cards from the Card Draw, treasure chests, and defeating Heartless
- These cards make up your attack and assist deck, where you can equip 9 and 5 of those cards respectively
- Attack cards determine the damage you can deal to the enemy, and the defense against enemies' attacks
- Assist cards help to increase your HP and the LUX rate, ie. if you have 66% LUX rate you will earn 166% from the enemy
- Through Card Synthesis, you can fuse cards to your base card to level it up. Or fuse two of the same cards to increase its maximum level.
5) Battle System
- You have a deck of 9 Attack Cards. Every turn you will randomly draw 3 from your deck. On the 2nd turn you will draw another 3 from the remaining 6, and the last 3 will be drawn on the 3rd turn. The deck will then be reshuffled and the process continues.
- The order of the cards brings certain effects which will be explained in the
Keyblades
section.
- You are defeated when your HP reaches 0.
- For field Heartless, you can spend the same amount of AP to Continue.
- For Raid Bosses, you can only attack a boss for a maximum of 6 times or till the point your HP reaches 0. Then you can fight it again.
6) EXP and Munny
- You can only earn EXP by defeating field Heartless.
- The amount of EXP needed to reach the next level slightly rises each time. Until 200 when it is stagnant at 20000.
- Munny in this game is used for Card Synthesis and Skills. They can be earn from field Heartless, Raid Bosses, and purchasable from the Moggle Shop.
7) Missions
- There are 3 types of missions: Grade, Limited, and Event
- Grade missions usually requires you to open a certain number of treasure chests, pick up a certain number of materials, or kill a certain number of a particular Heartless. Rewards usually consist of Munny, Moogle Points, Tickets, and most importantly, Mythril materials.
- The difficulty of Grade missions increases with your level. There is no deadline to these missions, but you have to clear one to receive another.
- Limited missions usually include Union Ranking and Guilt missions. These missions have a deadline.
- There are event missions almost every week which includes Damage, Heartless, Boss missions. Rewards from these missions are the best which helps you tremendously to grow. However, you will need a good party to achieve most of them so this is not your main priority. Don't worry as event missions come endlessly.
8) Important Timings of the Day
- The clock of Chi is based on the time in Japan. Deadline of all missions is either till the midnight of a specified day, or the time of maintenance.
- Maintenance will commence from 1PM of every Thursday till either 4PM or 5PM, depending on the quantity of updates
- Everyday there will be 5 time slots when you can earn double LUX, called LUX Up Time or LUT.
-
LUT
occurs on
1AM to 2AM
,
7AM to 8AM
,
12PM to 1PM
,
7PM to 8PM
, and
10PM to 12AM
.
- Also, there will be 3 time slots when you can earn 5 Guilt Points from Guilt Heartless, called Guilt Up Time or GUT.
-
GUT
occurs on
11AM to 11.30Am
,
6PM to 6.30PM
, and
9PM to 9.30PM
.
9) Things you can do in the game
- Fight Raid Bosses and clear any limited missions available
- Fight field Heartless and clear any limited missions available
- Clear any available story missions
- Clear grade missions
- Improve on your card deck
- Collect materials for your Keyblade
- Open treasure chests for assist cards and random Moogle Fruit Draw
- Clear guilt targets every two weeks
- Earn medals to use in Moogle Trade Shop and Card Medal Shop
- Card collection
- Participate in any events
- Chat with your party!
Here are a few things you have to start on:
1) Join a party
2) Proceed through the Story Missions
3) Collect materials to build your Keyblade
4) Build up on your card deck
Things that you should not focus on until you are stable in the game:
1) Guilt Targets
2) Moogle Trade Shop
3) Skills
*There are Boss and Heartless missions and events every week in KHχ. It is highly recommendable for beginning players to ignore these missions and focus on the above 4 points. The missions are endless so you can always join in later!
*Although this does not mean that you have to ignore all missions. Hit the boss to clear up your BP, there is a chance your team might be able to defeat the boss on their own and you can still earn the rewards!
*When you have build up a reasonable full R+ deck or even a SR deck, upgrade your Keyblades to a sufficient level, find a stable party. You are then free to do whatever you want in this game. Whether to continue strengthening your deck, aim for the LUX rankings, participate in missions, etc.
_______________________________________________________________________________________________
Party
One problem many new players have is joining a party.
When you first start out, join any random party. This allow you to gain some AP, and there is a higher chance you can participate in the defeat of a Raid Boss. There is no point in searching for a stable party now as you don't have anything to offer.
At the top right corner of your screen, there is the
Menu
.
Select
Party
.
Click
Search for Members/Party
. The left tab is to search for Members, the right tab is to search for a Party.
The Category Filters is to make it easier for you to find a right party. A party leader can select the category he wants his party to be found in, and you can simply select that category to request a party invite.
Now there are two types of Party Requests:
自動で申請許可 (1st and 4th Party) means that upon clicking
Request to Join
, you will automatically be in that party.
手動で申請許可 (2nd and 3rd Party) means that upon clicking
Request to Join
, the leader has to personally accept or reject you.
For the beginning, just join any random party just for the sake of increasing your AP and participate in their boss fights. If they kick you out of the party, join a new one.
To confirm if you are in the party, in the Raid Boss page:
The bottom one shows that you have successfully joined a party.
A new team is formed every Monday. This team will consist of all the members in your party. If your party is not full, then random new solo players will fill in the spaces in your team for that week. So by joining a new party, you still have to wait till Monday to be in their team.
Without a party, you will just be in a random team every week.
Party Class:

In KHχ, the parties are separated into 4 Classes: C, B, A, and S.
Everyday, your team will be matched up with an opposing team in the same Class. Usually the opposing team should be within a few ranks away from you, but don't be surprised if there is a mismatch.
So far, the only difference between the Classes are daily team rewards, and in occasion there are some missions that are tailored for different Classes.
S Class
: Top 10 Teams in each Union
Daily Team Rewards (Victory): 100 Moogle Medals, 20 Ethers
Daily Team Rewards (Defeat): 50 Moogle Medals, 10 Ethers
A Class
: Rank 11-30 Teams in each Union
Daily Team Rewards (Victory): 30 Moogle Medals, 3 Gold Tickets, 10 Ethers
Daily Team Rewards (Defeat): 10 Moogle Medals, 1 Gold Tickets, 5 Ethers
B Class
: Rank 31-80 Teams in each Union
Daily Team Rewards (Victory): 5 Moogle Medals, 1 Gold Tickets, 10 Ethers
Daily Team Rewards (Defeat): 1 Moogle Medals, 3 Silver Tickets, 5 Ethers
C Class
: Rank 81 and below Teams in each Union
Daily Team Rewards (Victory): 3 Silver Tickets, 10 Ethers
Daily Team Rewards (Defeat): 3 Bronze Tickets, 5 Ethers
Your Party Number reflects the LUX rank of your team in your own Union in the previous week. For newly-formed teams, teams consist by multiple parties, or teams that is filled with many solo players, the party number will not be an accurate representation. In other words, party number does not matter much.
The Class is which your party belongs to differ everyday. Being in Team No.8 in your Union does not mean that your are in a S Class for the rest of the week. The Class System is based on the daily rankings. If you are in Team No.15 and is in the top 5 LUX ranks of your Union today, tomorrow your team will be in S Class but your team number will not change.
______________________________________________________________________________________________
Last edited: