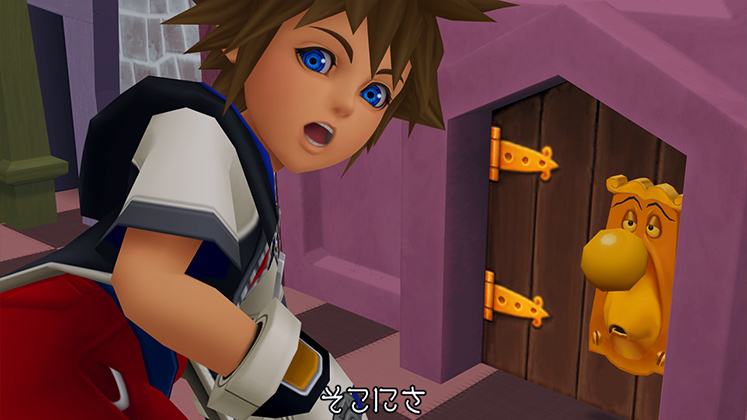 Back in mid-April, I sat down to try and finish the story of Lego: Lord of the Rings. Around midday, my mother asked me to check the mail box. Thank god she did because in the mail was a post slip for my copy of Kingdom Hearts -HD 1.5 ReMIX-.
It's been close to a month now, and I've had a good taste of all three games offered in the ReMIX package, so I have decided to let you guys know the good, the bad and the general opinion I have from the HD remaster collection. Grab some popcorn, relax and enjoy.
I should start with Kingdom Hearts. I was excited to play it, especially for the Final Mix additions and the fixed camera control. I booted up the game and selected the first option. As I guessed the difficulty I was choosing, what I think was the sound option and vibration functions (I don't understand Japanese), I was eager to speed through the game to unlock the Speedster, Undefeated and Unchanging Armor trophies early. As the opening cutscene started, I pressed the start button, wanting to rush through as quick as possible. Much to my dismay, the option to skip the scene wasn't there. I paused and unpaused several more times before giving up.
There was only one other time this happened during the game, and it was during a normal cutscene I believe. It was a bit disappointing to also find that text box scenes couldn't be skipped. Instead, I had to repeatedly press circle to speed through these scenes. Another bit of disappointment was something I was so eager to have fixed: the camera.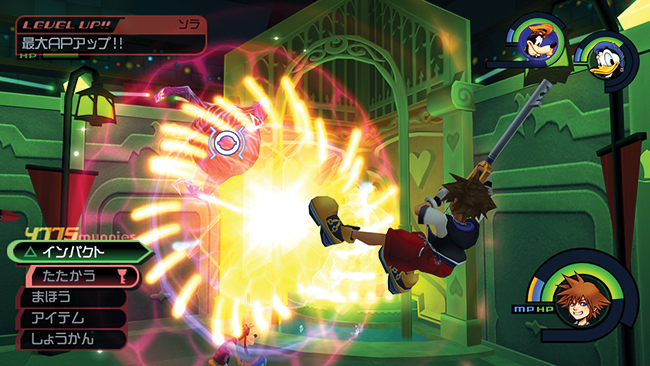 I will forgive my ignorance when trying to figure out how to change the camera controls in the option menu since I previously stated I do not know Japanese, however, there were some slight issues I faced when moving the camera. This might just come off as nitpicking to some of you, but one thing I didn't like was the camera would still slightly move after pushing it to do a 180 degree turn. You push it, you let go, you expect it to stop. Another thing is you can't move the camera at all when you're locked on to an enemy. I don't remember if it was like this in the other games, but in open areas that are smaller than others, the camera has a hard time getting on to a fixed point. It creates an awkward gameplay environment.
The only other disappointment I can comment on before I get to the good is that you don't really notice the Final Mix additions. Yes the enemies are re-coloured, but that factor loses its uniquness within a few minutes. The abilities are the same. You think having the stunning finisher is amazing until every attack you do is finished with it. Eventually it just gets to the point when you don't even register the additions and it doesn't feel like much was added/changed.
Also, there is no theatre mode for Kingdom Hearts which totes sucks.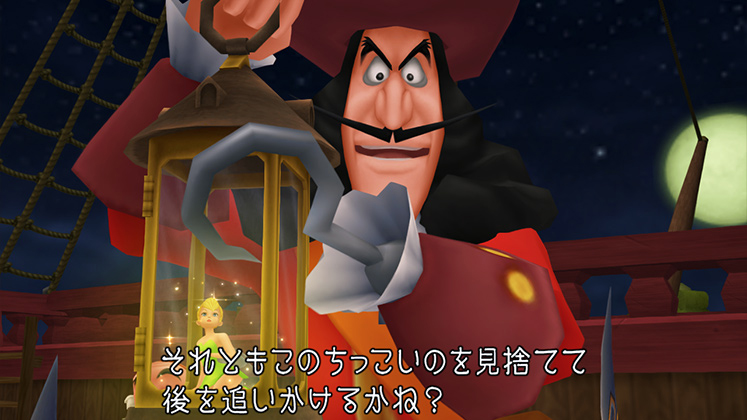 Okay, now that I have that off my chest, have some good things about Kingdom Hearts Final Mix.
It is visually stunning. The game looks like it was made for this generation of consoles. You can't really take in that much of the scenery when you're speeding through the game, but there are some moments when you stop and just admire something, whether it be a chair in Wonderland or the mist in Halloween Town. The game looks incredibly polished and smooth and that alone is a good reason for you to pick the game up this Fall/Spring.
Sora's new model is also so much better. It takes a little getting use to, especially since you're use to the skinnier-face and more tan Sora in the first game. Once you get use to his newer model, you can admire the amount of attention and detail they put into it. The emotion his eyes display, the way his hair moves when swimming; It's clear they treated this with the utmost respect and worked hard to deliver something worthwhile.
One thing I would like to praise is something that was in Kingdom Hearts and again in Kingdom Hearts II, and I thought it was nice: being able to fully skip a world without visiting it. While you do lose some things (curse you Thunder!) it was refreshing to not worry about adding more time to my total score.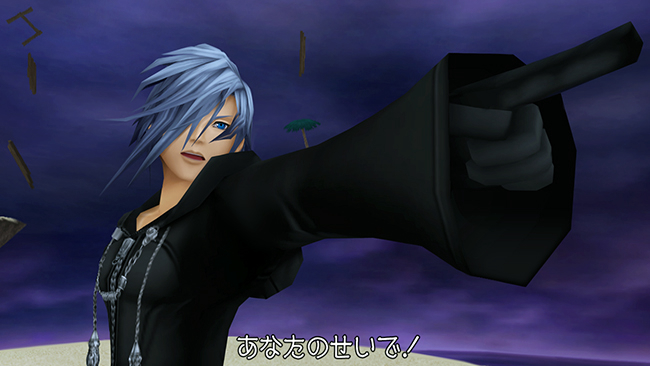 As you all know, Re:Chain of Memories was only released in Japan and North America. Since I never had a Game Boy Advance, I didn't have the chance to play the original Chain of Memories. Playing the full 3D remake, especially after playing Kingdom Hearts Final Mix, was refreshing and a joy to play.

I am in absolute love with the amount of strategy you need to build up with this game. Sleights, enemy cards, it's all just been a wonderful experience.
While it is hard to play Re:Chain of Memories for long periods of time, I have found myself entertained by the gameplay, which for me is a big part of the game. Since I don't understand Japanese, I've found myself skipping the Disney worlds (they are beautiful though) and just going in to kill heartless and progress through the plot. It's always interesting seeing where Sora will end up next, or who he will run into.
I am only up to Twilight Town  (Castle Oblivion at time of publish) in Side:Sora, so I haven't had a chance to play Reverse/Rebirth yet but I can say I am looking forward to it so much. Playing as Riku in [Dream Drop Distance] was a breath of fresh air and he was wonderful to control. I hope it feels the same way when I reach it.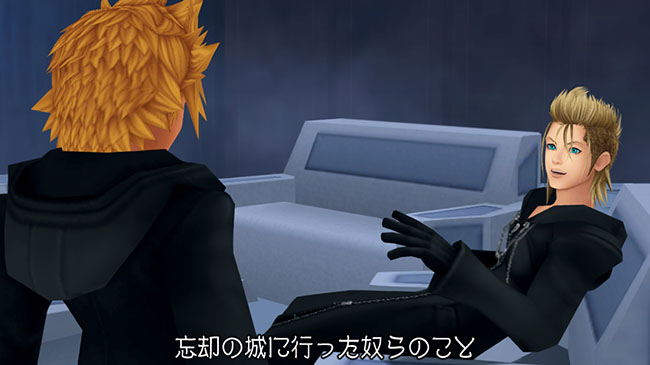 I don't really have anything negative to say about Re:Chain of Memories HD, especially since it was remade more recently than Kingdom Hearts Final Mix, however I do wish the english release would hurry up so I know what sleights I am setting up instead of doing trial and error! Oh, and for Vexen to not have his shield guard so many attacks *sigh*.
I didn't really go that far into 358/2 Days. For those who have checked my trophy details, you would know I 100%'d the game within half an hour, however from what I saw, the cinematic cutscenes are absolutely stunning. While there are certain... things that I'm sure many fans are upset at being removed, it was probably necessary in order for the main message of the story to shine though.
 In re-cap:
Things I liked:
It's beautiful
Re:Chain of Memories has fun gameplay
Trophies are tedious, but hey, they're trophies so thats always a plus in my books!

Things I didn't like:
Final Mix additions didn't really shine
There was still the camera issue
Japanese text/voices
Clunky gameplay in Kingdom Hearts Final Mix
So what's your verdict, KHInsider? For those who have played the game, what did you like or not like within the game? For those who are waiting for the Fall/Spring release of the localized version, does one persons opinion on certain aspects make you feel a bit uneasy about the upcoming game? Post your thoughts in the comments!