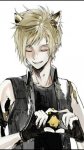 Joined

Nov 17, 2006
Messages

4,357
Awards

2
Age

34
I'm making a similiar thread that Gildragon made a while ago.

I figured it's about time I'll update my wardrobe, but I have no idea what to buy.. I don't really have any style and I have no idea what style suits me the best. Only thingg I know is that blue is my color.

I have long blonde hair, green/blue eyes and my skin is very pale, hard to get it tanned. My figure, I guess it's kinda hourglassy, tiny waist, but huge tighs :/

I'm also a short person, and a girl. And I'm 21 years old.

So do any of you out there have any fashion tips.
Last edited: