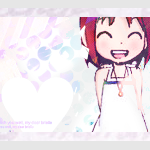 Proud Demyx/Kairi Shipper
Joined

Oct 12, 2007
Messages

4,281
Awards

1
Location
Disclaimer: I don't own Kingdom Hearts.
Characters: Sora, Namine, Kairi, Riku, Selphie, Tidus, Wakka
Setting: This is an
AU
, where Namine really was Sora's childhood friend on Destiny Islands.
Summary: It's almost Christmas, and Sora still doesn't know what to get Namine, so he goes to Kairi for advice.
Type: One-shot
"It's the Thought That Counts"​
"Look Mommy! I'm all done with Riku's cookie!" squealed Kairi.
"What's that supposed to be? A star?" asked her mother.
"No, it's a…a…" The five-year-old girl frowned as she tried to remember how to pronounce the name. "It's a pow-pow fruit!"
"Do you mean a
paopu
fruit?"
"Yeah! That's it!"
"Oh…" Her mother was a little surprised. Did her daughter understand the significance behind giving someone a paopu fruit? No, she couldn't; she was only five. Right? "Sweetie, why do you want to make Riku's cookie look like a paopu?"
"Because he always likes to sit by that pow-pow tree," explained Kairi, "It's his most favorite place on the island!"
"Oh!" said her mother. That made more sense. "Here, put it on the tray with the other cookies. Who do you have left?"
"Um…" Kairi looked at the tray. She'd been at a loss about what to give her friends for Christmas, until her mother had suggested that she bake a special cookie for each of her friends. Thus, there was now a paopu cookie for Riku, a blitzball for Wakka, a mini paint board for Naminé (that was her favorite, because of all the different colors), and a happy face for Selphie ("'Cause she always makes me smile!"). "I still have to make Sora's and Tidus's!" she announced, "I'm gonna make Sora's look like his toy sword!"
"He'll love it!" said her mother, as she handed Kairi some more dough. Kairi had just gotten it into a satisfactory shape when they both heard someone pounding on the door. "Stay here, sweetie, I'll see who it is," said her mother.
Kairi listened to the sound of the door opening while she looked for chocolate sprinkles to put on the sword. Suddenly, she froze in terror as she heard her mother say, "Why, hello there Sora!"
"Hi Kairi's mom!" cried Sora. He sounded like he was out of breath. "Can I…" he gasped, "…talk…to Kairi?
It's an emergency!
"
"Oh dear!" said her mother, "I'll go tell her right away! Would you like to come in?"
"
Mommy!
" whispered Kairi. She was poking her head out from behind the kitchen door with a panicked expression on her face. "
Mommy, don't let him in! He's gonna see his special cookie!
"
"Don't worry," her mother whispered, "He won't see them if you stay out of the kitchen."
"Oh," said Kairi, "Ok." Then she hurried over to the front door, where her friend was waiting. "Hi Sora!"
"Hi Kairi!" he replied, "I really, really,
really
need your help!"
"With what?"
He looked a bit sheepish. "Well, I dunno what to get Naminé for Christmas! And you're her bestest friend, so I thought you might know. What are you gonna get her?"
"Um…" There was no way she could give him an honest answer; she didn't want Sora to guess what
his
gift was. "I dunno either."
"Oh," said Sora, and he dropped his head sadly.
"Sorry," said Kairi.
"No, it's ok. I'll think up something special."
"Hey, I know! Why don't you draw her a picture?"
"A picture? Of what?"
"I dunno; what's your most favorite thing to do with her? You can draw you guys doing that, and tell her how much it makes you happy!" Kairi was pleased with herself; it was not so different from her cookies, but it would be a better gift for Sora to give Naminé because she loved drawing so much.
Sora gave her a big hug. "Thank you Kairi, that's the best idea ever! I gotta go draw it; see you later!"
"Bye!" called Kairi. It wasn't until she had shut her front door that a horrible thought occurred to her.
Naminé
was the artist in the group, and she drew them all quite frequently. What if she was already planning to give Sora the same present? "Uh-oh…"
***
Sora, Riku, Naminé, Selphie, Tidus, and Wakka all squealed with delight when Kairi gave them each their own cookie. Selphie's smile matched her gift, and Riku seemed delighted by the paopu, until Sora began poking him with his sword cookie. They were having a little Christmas party at Riku's house, and everyone had agreed to exchange presents immediately.
"My turn! My turn!" cried Selphie, "Here Kairi, here Naminé- I made you both necklaces!"
"Ooo, they're so pretty!" cried Naminé, as they helped each other to put them on. Hers was made out of beads of every color, all strung on a white ribbon. Kairi's was on a purple ribbon with plastic stars and beads. Five of them had letters that were placed in order to spell her name.
Sora turned to his best friend. "Riku, my Christmas present to you is that I'm gonna let you beat me in a fight! But I won't tell you which fight!"
"No fair, that's
my
present for
you!
" he complained.
Tidus laughed. "Yeah, 'cause we all know that's the only way Sora could ever beat you, Riku!"
"Shut up!" snapped Sora.
In an attempt to be the peacemaker, Naminé spoke up. "Um, I made everybody presents too. Can I give them out?"
"Sure!" they all chorused.
"Ok," said Naminé, feeling encouraged, "Here you go. I drew you all pictures!" With a flourish, she pulled out her sketchbook and began tearing out the pages before giving one to each friend.
"Cool!" cried Wakka excitedly, "It's you 'n me swimming!"
Selphie began to jump up and down excitedly. "Yay, you drew my doll too!"
"Here's yours Riku," said Naminé, "And…where did Sora go?" She looked around, but her friend had vanished. Everyone was just as confused, except Kairi, who felt terrible.
"Um, I think he went outside," she mumbled. A worried Naminé rushed out of the room to check. Sure enough, Sora was sitting out on Riku's front porch, and his shoulders were slumped over.
"Sora! Sora, what's wrong?" cried Naminé, as she ran outside to give him a big hug, "What's that you've got in your hands?"
Sora looked up, giving her the saddest look that she had ever seen on his face. "It's your present," he muttered, "I got you the same thing you got everyone else, and now it's not special anymore!"
"What do you mean?" asked Naminé curiously, "You drew me a picture?"
"Yeah!" wailed Sora, "It was Kairi's idea, she said I should draw us doing our most favorite thing…" He showed her what he was holding: it looked like several pieces of paper tied together with beautiful red and green ribbons. "But I have lots of favorite things to do with you, so I made lots of pictures instead. See?"
Instead of looking disappointed at the thought of receiving the same gift that she had given him, Naminé gasped with delight and started looking through the pictures with a huge smile on her face. "You drew these all by yourself?"
"Yeah," said Sora, "And that's another thing! They're all terrible 'cause I dunno how to draw good like you!"
"They're the best drawings anyone's ever given me!" said Naminé happily.
Sora froze in shock. "They…they
are?!
"
"Yes! I love them!"
"You
love
them? Really?" Sora could hardly believe his ears, but his heart filled with joy.
"Really! I do! Thank you Sora!" Before he could react, she threw her arms around his neck and gave him a quick kiss on the cheek. His smile grew wide and he hugged her back. "C'mon," she told him, "Let's go back inside before everybody starts looking for us!"
"Ok!" said Sora, feeling very cheerful again. This was, in his young mind, the
best
Christmas ever!
The End!​
Reviews and/or constructive criticism are welcome!