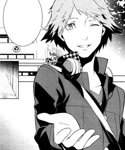 Joined

Jan 13, 2010
Messages

3,758
Awards

1
i never said the game asn't important, i just said that development seemed rather disposable like the game.
If you thought it was important, you wouldn't think development on it was "disposable". That's pretty contradictory.
Point is, the game is important to the storyline. Whether or not a fan believes it is important for themselves to
experience
that part of the storyline is completely up to them. If you already have a DS though, I don't see why you would deprive yourself of what looks to be a truly amazing and fun game though, with a lot of great character focused story nuances.