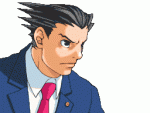 Joined

Mar 2, 2010
Messages

3,484
Awards

2
Age

33
Location
Re: Is it really needed?
Because we don't make the games and all Square Enix cares about is money. Since people will buy it regardless of whether or not it has a point of existing, they win and we lose.
so much fail in one post. Square enix is a company and they have to care about money in order to stay afloat.
Now, the HD collection is to do two things. Maybe three.
1. Brig the series back to home consoles
2. Make the story accessible to fans who never bought the portable titles
3. Invite new fans to start from the beginning.
The real question is "why would HD 1.5 *not* be needed?'
That's why KH 2.5 will be made with KH2, BBSFM, and (probs) Re:coded HD Theater. While Square Enix COULD collect all six games on one system, you know how long we'd be waiting for it? This has been in development in secret for at least two years now. We wouldn't have seen this until 2014 at the earliest, and I thought you all want KH3?

Let the Osaka team do their work. This is a GIFT to the fans, not something you should be complaining about.
This. A gift to a bunch of fans who are never satisfied and whine even when they get what they want like a million Verucas.
Also, if they were to include all the games on one collection, that would be too expensive for the consumers like us, and people would complain more.
Last edited: