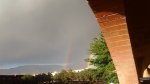 Joined

Nov 2, 2011
Messages

5,422
Awards

2
Age

31
Location
Website
Both my mom and stepdad came from religious upbringing. They came from the stereotypical white Southern Baptist background. Both of them had controlling parents. My mom had knives thrown at her by her mother and my stepdad had high expectations placed on him such as a long marriage, being in the military and supporting his family by going to work. He just like his brothers failed miserably. He couldn't boot camp and got kicked out. My stepdad couldn't hold onto a job for many reasons; the stress, the bullying, and the fact he would always lie to my mom about it.

My mom wanted to have a normal family. She was the main breadwinner in the family and sometimes it felt like a bunch of strangers, instead of a family of four in the same household. My mom married my stepdad and had my sister. I was close to him, but after her birth; we grew apart.

I sought to get into a church to try to bring some closeness to the family since my stepdad's parents always dragged us there on Sunday. The people there were nice. At thirteen, I found a church. I became a religious nut going from person to person's house inviting them to a revival and preaching Bible stories and all that stuff. But, nothing ever seemed to work.

My mom tried to help me by showing me this one religious movie about a Christian girl forcing her gay boyfriend to become straight through sex, but she ends up getting pregnant. I told a friend at church about it, but they called it hypocrisy. I gave up a lot of things like 'Harry Potter' and even 'Charmed'. I freaked whenever they were on. And, I also gave up on being a pastor, because as my pastor said, 'A woman shouldn't usurp a man's authority as the man is the head of the household'.

It got out of hand. My step-grandmother started doubting her beliefs, but she still clung to it due to her controlling husband. He made her give up smoking, because it wasn't feminine and that she should support their three boys. My stepdad's marriage lasted the longest out of his three brothers. Us grandkids, well me and my half-sister's cousin were tossed aside so that the grandparents could baby my half-sister and her boy cousin. I always felt like an outsider and followed my half-sister's older female cousin. Of course, we didn't always agree and my mom said that I would throw tantrums whenever I didn't want to follow when we were both little.

Things grew hectic at home. My half-sister didn't want to come to the church I was going to anymore, because they didn't have any activities for her age group; preteens. I clung to my beliefs, but I was always the church idiot. The youth pastor always had to make sure that I didn't get into trouble as I always liked to wonder off and whenever I asked questions. He would just say, 'Didn't I already answer that question before? And, why do I have to repeat it? Once saved always saved."

I tried to fit in, but I was always the outsider. I stopped going, because of some things that were going on. I was a bully as I was insecure about myself and that was the only way I knew how to cope with anything. It wasn't just me. The classroom couldn't go one day without a sense of mischief and I was at the background. I am not a nice person by any means back then. And, when I started going to high school full time I tried to be close to this one guy, but his girlfriends wouldn't have it.

He tried flirting with me, so he is just not as innocent. I wanted somebody to love me, but I moved away to New Mexico. My mom and stepdad's marriage broke apart after like sixteen years. My mom found someone else to love, but he wasn't weak like my stepdad was. My mom had a boyfriend that treated us all like servants. I liked him at first, but it got worst and worst. I had to give up my dog, because I couldn't care for him and he would always yell at us to get the dishes done fast.

I broke his Swifter and he threw a huge tantrum. I only stuck to mopping and sweeping the porch, keeping my room clean and vacuuming the living room. I also picked up dog poop and he would yell at my mom or us when we were late. Hardly a day went by without any conflict. I wanted it to just be me and my mom, because we didn't have no one to interfere and make us miserable. I am monster for this and a lot of things just fell apart. I choked and hit myself and my half-sister cut herself due to the constant fussing and fighting at home. I remember a lot, but I remember being called a hypocrite by my mom, because I blamed God for my problems. Perhaps, I am.

I am still struggling and I feel like a lot of things that happened were my fault. I feel like I am living a lie for all the stuff I did to my family. I had a lot of responsibility placed on me and I failed at it such as paying for half of the rent when I was living with my mom. I wasn't trusted and for good reason too. I was blamed for my mom's boyfriend's dog getting hurt, because he was locked in a room full of tools and he liked to claw his way out of there.

He was greedy with food and tore my sister's dog's lip up. My sister had to put her dog away from mine and his. I let my dog get away with a lot of stuff and had to be yelled at to change the food and water, which his dog greedily drank and ate up. My dog and my sister's dog were locked outside due to constantly pooping in the house, but his dog was praised as a saint and only got a slap to the wrist for doing such things.

We had to keep the dogs back from running outside and I only just wanted to be appreciated. Sure, I was told things like 'Cover your ass' and such. But, I still have a victim complex. I have a lot of stuff that I don't forgive myself for. And, why did my family fall apart while others didn't? I've always felt like an outsider and not even God help me.