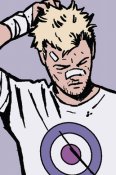 Joined

Dec 8, 2004
Messages

6,797
Location


So you liked the Iron Man movies, you're interested in the character but don't have access to a Local Comic Book Store or an iPad? No worries. Marvel's got you covered with their line of Motion Comics available on iTunes or PlayStation Network or Xbox Live or even Hulu.

This motion comic series is essentially an animated retooling of an actual comic book into a sort of animated form.

The Iron Man: Extremis story is an in-continuity tale where Tony Stark was updated in an extremely modern setting, with Tony and the Iron Man suit receiving basically a 2.0 upgrade. The series will come in six episodes, with each episode being an adaptation of each issue that made up the Extremis story.

If you're interested - check it out.