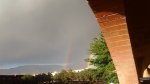 Joined

Nov 2, 2011
Messages

5,451
Age

26
Location
Website
I have been seeing this same house in my dream constantly. I think it's my apartment, but the thing is. It is a lot more spacious and has a lot more rooms to explore.

The thing that makes this an invasive dream is that I can't seem to ever get the previous owner's clutter out of my 'new' place. I just recently met the owner tonight, apparently, he is some fat, ugly, white guy that wears boxers that look like they are too small for him.

The place I met him was the kitchen in my dream, apparently it has a window that looks out to a porch or something. There is this ugly, stained futon in that room. That is where I met this guy at.

I don't know what this place means. I love being in the place, but I really hate having to share the space with this guy and his seemingly endless junk. In my dream, I've thought about selling them, but it never gets done. The guy is a ghost, because he appears out of thin air.

Anyways, I keep having people that seem to come into my apartment in my dreams. There was this black mother and daughter. The daughter, I can probably tolerate living with, but her mom, oh gosh...her mom is talkative. She comes in my bedroom and talks to me while I am trying to sleep. It's not their place and I couldn't tell them to leave in my dream.

They were probably more polite than the other idiots that traffic into my apartment during my sleep. I've yelled at some of them to get out, but they just yell at me and degrade me. They eat my food and pretty much run my apartment and tell me to 'back off.'

One previous dream, I was in the same house. I think I was locked behind a white door with this ugly chain-lock on it. I want to set my stuff this place, but the clutter always dominates.

I remember waking up at like two this morning. I think I was terrified, because I felt like there were some boyfriend and girlfriend arguing right on my porch of my second floor apartment. I've had sleep paralysis before and I am kinda thinking this was sleep paralysis with a dash of my brain waking up.

I don't know what these dreams mean. Man, they are a nuisance.

Can somebody tell me what these mean?