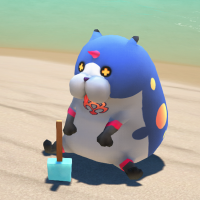 trapped in revamp hell
Staff member
Terra, Ventus and Chirithy were recently introduced in LINE: Disney Tsum Tsum! To commemorate the occasion, an interview was conducted with Terra's voice actor, Ryotaro Okiayu. He shares his thoughts about the character and the Tsum Tsum app.
Thanks to goldpanner for translations!
Your character, Terra, was officially introduced to the Kingdom Hearts series in Birth by Sleep. Did you feel pressure, or was there anything that gave you difficulty, coming into a story partway through?

I also played Setzer in KH2, so I had some experience with the series. I did feel like, a second role? They'll really let me do that? But it went surprisingly smoothly. Even though emotionally it was a painful and sad journey, recording was fun.

Well, there was quite a bit of time between recording for the trailer and the beginning of actual recording, and I couldn't help getting anxious then (laughs). I was like, maybe they've recast me?

Terra has an especially strong sense of justice, and we are sure he gives off a strong big brother vibe to many players. Was there anything you paid particular attention to while performing?

In the game, Terra is on a lonely journey to bring back Ventus. While recording, I felt that until he reached the end he spent a great deal of time worrying about Ventus and Aqua's safety. Due to the sheer amount of voice work, I feel like I visited the studio many times. Even so, I never once saw Ventus' voice actor, [Koki] Uchiyama. That real life experience overlapped again and again with plot threads in which Terra can't meet Ventus (laughs) It made me paranoid, like, is this never going to end??? Anyway, when I play Terra I think about Ventus and Aqua a whole, whole lot.

To celebrate the 4th anniversary of Kingdom Hearts Union Cross, Terra has joined LINE:Disney TsumTsum! TsumTsum is a popular smartphone game that caters to a different type of gamer than the Kingdom Hearts series. What is your impression?

I have been playing TsumTsum for a pretty long time. Although I am absolutely no good at it (sweats) Other Kingdom Hearts characters have appeared in the past, so I am overjoyed that now Terra gets to join the ranks. I am no longer jealous of Aqua!

The Terra Tsum's skill voice is so perfectly Terra. It's a line that shows the side of him that cares deeply for his friends. What did you think when you first saw the skill?

Nice, a mass erase type skill! I was also very happy to hear my own voice in TsumTsum. I have to get him!! I won't miss this chance!

(Note: He got him on his first try!)

What kind of skill would you like to see Terra use next time if he gets to appear in TsumTsum again?

In BBS, the characters have armored forms, so I think a skill where he uses his armor would be exciting. Of course, I would hope it's another proper voiced type♪

Lastly, a message for the fans of the KH series and LINE:Disney TsumTsum please!

There are quite a few Kingdom Hearts Tsums now - have you gotten used to them? In the Kingdom Hearts series, you get to travel through many Disney worlds and meet a great number of Disney characters and villains. I hope that you enjoy both games.