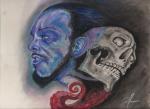 Joined

Dec 23, 2005
Messages

3,803
Awards

1
Age

33
Location
Website
Rough Draft of my final piece for Modern Art History.
Lillie asked us to do a piece in the style/reference of an artist we touched on during the course of the semester.
I chose Mary Cassatt's Reading Le Figaro. (Portrait of the Artist's Mother). 1878. Oil on canvas. Private collection.
http://www.abcgallery.com/C/cassatt/cassatt14.JPG
(there's a link in case you don't know of the portrait)
I figured since she painted picture of women in a higher standard of the time I figured I'd do the same (ironically I've never drawn my own mother). She's really all I got left and she's been through a hell of a lot in her life time so consider this a tribute if you will while a mandatory project.
You can't see it in this picture (yet), but she's reading the paper at her work desk.
The idea being that she's in her own world not acknowledging the camera so there is little to no connection with the model being used and the viewer (as there would be with eye contact). The similarities also being that I modeled her reading the paper and there's a mirror in the background (well going to be). The manner in which they're dressed for the time is an allusion to the class of both women.
On a side note, this has only taken me a little more than an hour to draw so far.
Last edited: