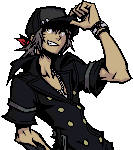 Joined

Mar 29, 2007
Messages

3,003
Awards

5
So it's almost been 4 years, and I have finally reached the highest part of the social ladder a member can reach without becoming staff.

I'm not sure if it's because of plain laziness or pickiness when it comes to the threads I post in/create.

Even though I am not the most avid poster, I am always online.
Whenever I get online for any reason, I always open a tab for KHI just to see what's up.

Thanks for putting up with me for so long, I'll be sure to keep sticking around and annoying everyone.