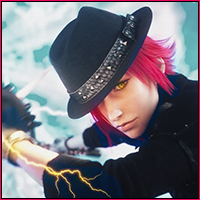 Joined

Dec 8, 2019
Messages

40
Awards

2
Age

23
I wouldn't let Nomura cut 0.2 out of KH3 and i would have it be KH3's prologue like it was originally intended before they decided to package it with 2.8.
I feel like it would really alleviate a lot of the problems fans had with the pacing of the story.
Here's why.
A lot of people complained about the pacing of the main story being slow and that then it suddenly stepped on the gas while most of the main plot was crammed at the end
0.2, is a 2~3 hour long prologue full of nothing but OC KH story which works better than throwing the player in a Disney world right from the start and Aqua gets a lot of screentime and moments showing her capabilities too, a lot of people felt Aqua got shafted in KH3 so this would fix that problem as well. Ven and Terra make an appearance in 0.2 too so that's also a huge bonus since it would add to their screentime. It would really make KH3 feel like a culmination of everything that happened before it right from the start and it would motivate people to go through the Disney worlds and enjoy them instead of getting tired of them or rushing them just because they want to finally see what happens next.
A lot of people also complained that there was no mid section in the plot (and kept bringing up Radient Garden's 1000 heartless fight from KH2 as a comparisong), it's all disney "filler" as they call it and then suddenly you're at end game.
0.2 Fixes this because it feels like an actual prologue, similar to Roxas in KH2. Sora going to save Aqua in the realm of Darkness, would actually feel a lot more like "mid game" with 0.2 at the start of the game, because it completes Aqua's character arc post-bbs in one game so it would feel like - Aqua beginning of the arc (Prologue) -> Disney journey -> Aqua saved, arc completed (Mid game) -> everyone gathers back at Yensid's tower, reunions happen, Aqua and Sora go and save Ven -> moving on to the last act of the game.
As things are now a lot of people misunderstand and think that the game has no mid section, but the truth is the game does have a mid section, what it doesn't have is a prologue.

It also would remove the feeling of playing "filler" to a degree since Sora would have another purpose other than finding a vague power of waking and you would have already gotten a taste of actual main plot, making the Disney worlds feel like an actual journey to save Aqua instead of an aimless journey through Disney to find a random power you know nothing about. Not only would 0.2 not make the Disney journey not feel like "boring filler" but it would also make the Disney visits feel like a "well earned break from the intense shit that went down in the prologue", a time to relax and have some fun. The cutscenes of Mickey and Riku in RoD would also carry more impact.

Another thing is, not a lot of people played 0.2 and imo it's quite integral to KH3 which why it is named "Final chapter prologue" aka KH3's prologue. This is why a lot of people couldn't connect with Aqua and didn't really get how much she suffered in the RoD or why Riku can relate to her. It's also why saving Aqua didn't feel like an actual milestone and a mid section in the game, because removing 0.2 from KH3 makes saving Aqua a lot less impactful (Especially if you're just rushing after 25 hours of just Disney) and so people just dump "Saving Aqua" in the same bag as the rest of the game and feel like the story started rushing and saved everyone in the span of 20 minutes, when in reality it's an entirely separate sub-arc in the story that took BBS's epilogue (Secret Episode), 0.2 and KH3's prologue to be completed just so they can finally go to where Ven is hidden. There was honestly nothing more to add to Aqua's arc but because it was so fragmented and only a small fragment of it made it in KH3, people felt like it was rushed and that the game was just checking things off of a list.
Last edited: