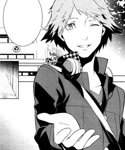 Joined

Jan 13, 2010
Messages

3,758
Awards

1
Personally, that always seemed the most logical to me, and it even has basis being that, in the beginning of KH2, Roxas couldn't summon the Keyblade because he couldn't remember ever summoning it (he had to go through a new awakening). That always made the most sense to me as for why Xemnas wouldn't be able to wield, but, it kind of seems like there might be more to it. I'd be satisfied with that being the answer.
Also, on the topic of Nomura's comment on Roxas having Ven's heart, this kind of says enough:
In the end Roxas is able to use two Keyblades. Is this because he now has Xion's?
NOMURA: Well, it isn't that Roxas has physically inherited Xion's keyblade, but more that Xion has awakened one within Roxas. [...] At the present I can't say more than that, since it would go into whether or not Roxas has a heart.
Translation: Roxas has Ven's heart and Xion awoke his Keyblade inside Roxas.
Last edited: