I am trying to figure out how KH calculates the percentage of magic resistance when you equip armor to a character.
Sora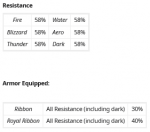 I was expecting his resistance to be at 70% but it stopped at 58%.
I thought there might have been a cap but a Google search shows that the cap for KH3 is 68%.
I also saw someone state that the resistance stacks but does not add. However the poster did not mention how.
Donald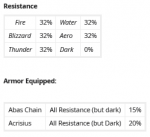 Here both should add up to 35%. It appears that the resistance is 3% less. I noticed the same thing with Goofy.
I thought that the percentage might be calculated differently if they are from the same item set (i.e. Cosmic armor)but couldn't find a pattern.
I re-equipped Donald with Acrisius and Petite Ribbon (20% All resistance) instead, and all of his resistance percentages came to 36%.
Goofy
Goofy has two of the same items equipped and it still appears to be the same pattern of 3% less (not counting blizzard).
I unequipped the Cosmic Belt + and kept both buster bands and it was 1% less than the total 20%. It was the same 19% with only cosmic belt + and buster band.
I can't seem to find a pattern at all and no one online has touched on it. Is there a simple solution that I'm missing? I don't know if their magic or levels have any kind of effect or not. Ideally I would like to find items that provide them with the max amount of resistance but I don't understand the math they're using here.
Help?
Last edited: