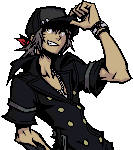 Joined

Mar 29, 2007
Messages

3,003
Awards

5
I'm 17 and today I asked a girl out that I have been talking to for about a month.
My own personal restrictions on me relationships was that I always felt dating someone 2 years or younger than me wasn't ok. My current girlfriend is 3 years.

Obviously, she is mature, and attractive. It doesn't really bother me what my friends will think, since most of them were the ones that pointed out she was cute in the first place.

But from a strangers standpoint, someone on the side lines might think it is wrong.

This is where the question in the title comes in.