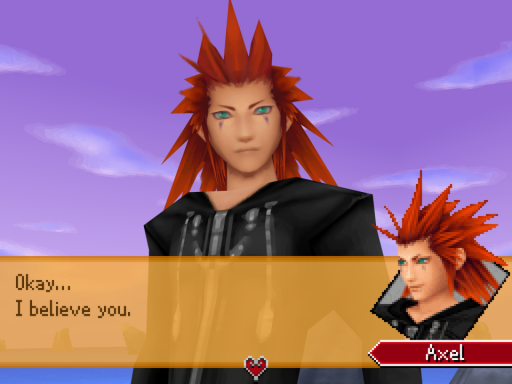 Joined

Jun 11, 2013
Messages

1,230
Awards

7
Location
So I've always wonder about the whole Roxas/Riku ending.

For quick background info to set up my question:

-Xion decides to fight roxas so she could merge with him.
-Roxas was too strong and beat Xion and Xion did her emotional stuff and told Roxas to go to KH and free them hearts.
-Riku learns about this and decides to meet Roxas at the TWTNW skyscrapers.
-Tells Mickey that he needs to fight Roxas to get Sora's memories back but admits that there is a chance he will lose.
-Roxas&Riku dance for a bit and Riku asks Roxas what's his plan.
-Roxas in anger said go to KH and free it and to meet Sora.
-Riku tells our hero that plan is stupid and Xemans and Co. will destroy him
-Then we all know what happens. Riku lost, turn to darkness and made our hero unconscious.

So my question really boils down to, what would have happen if Riku couldn't stop Roxas?

I can see Roxas going to the organization and getting killed off, but with my limited understanding of this scenario I think this will mean Sora will not wake up from his slumber. So at this point the Organization have lost their vital heart collectors (Xion,Roxas and now Sora) which leaves Mickey?? I guess as the only keyblade boy wonder out there to slay heartless but Mickey hasn't been shown to be one to fight a bunch of heartless to help the Organization harvest.

The other option is Organization XIII does some weird science thing to get Roxas under their control again, which again not sure how likely that is. Of course there is the extreme option of Roxas defeating his co-workers and reaching KH but Roxas wasn't strong enough to do it by himself.


So yea an theories or answer will be very appreciative since I know you guys&gals here are very intelligent in this subject matter. If my question can't be answer due to whatever, then I also would like to hear whether you think the Organization would have really gone through with destroying Roxas?