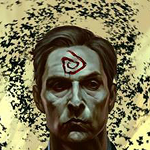 Joined

May 16, 2007
Messages

5,612
Awards

4
Location
Re: Have you spoiled yourself?
I didn't even last a month. Caved quicker than I thought I would.
Though in my defense, I rationalized my decision with how much I had been accidentally spoiled. Much of it I owe to YouTube's wonderful "Recommended videos." Through that, I saw thumbnails of Vanitas' face and other spoilers:
Such as Master Xehanort stabbing himself in the chest with his keyblade. I mean, of all the times in a video to make a thumbnail...
That coupled with minor spoilers that I learned here on the forums thanks to various retarded, oblivious members made me give in. I figured I might as well spoil myself completely before other random accidents do it for me.
Had I known that the release date would be September, I probably would have just spoiled myself right off the bat. I'd rather learn about it now than risk building myself up for an entire 8 months after the Japanese release just to be potentially disappointed.