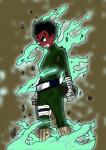 Joined

Jun 12, 2005
Messages

3,236
Awards

0
Harry Potter: And the Seven Angels of Death
year...2017
Albus, Rose, Hugo, and Lily laughed. The trained began to move and Harry walked alongside it, watching his son's thin face, already ablaze with excitement. Harry kept smiling and waving, even though it was like a little bereavement, watching his son glide away from him...
The last trace if steam evaporated in the autumn air. The train rounded a corner. Harry's hand was still raised in farewell.
"He'll be alright," murmured Ginny.
As Harry looked at her, he lowered his hand absentmindedly and touched the lightning scar on his forehead.
"I know he will."
The scar had not paned Harry for nineteen years. All was well.
Far above the Hogwarts Train Station, two hooded figures are staring down on the man who was once known as, "The Boy Who Lived". The one on the right took down his hood and removed a pair of pitch black glasses to reveal his dark blue eyes. His short blond hair and red bangs blew in the wind, occasionally getting in his face but he did not mind. The second figure also took off his hood to reveal his bald head and beard.
"Well, it's almost time for us to make our move," The blond one announced, "Adonis.... I'll see you at the school."
The bald one, known as Adonis, nodded his head and watched his partner transfigure into a crow and fly off in the direction of Hogwarts. "If the world thought that Voldemort was scary, they have no idea what they are up against in terms of The Seven Angels of Death." Adonis picked up a cellphone. Funny that someone of this world would have a cellphone but then again it was the modern thing to do.
"Three more months....."
----------------------------------------------------------
Rules
1) Literacy is a must. There will be no exceptions to this rule!
2) Absolutely no god-modding or powerplaying
3) Romance is allowed and will probably happen since this is a Harry Potter rp. Just nothing M rated please.
4) All posts must be at least a paragraph.
5) Do not kill any characters unless you get the ok from the person using said character.
-----------------------------------------------------
Sign-Up Temp
Hogwarts Students
Name:
Age/Year:
Gender:
Physical Description ( A picture would do also):
House:
Head Boy/Girl (First come first serve):
Personality:
Biography:
Miscellaneous Information:
Hogwarts Staff:
Name:
Age:
Subject:
Gender:
Head of House (First come first serve):
Physical Description:
Personality:
Biography:
Misc. Info:
Angels of Death (Seven higher ups and supporters known as the Minions)
The Angels of Death are a group of warlocks, wizards, and others. They keep themselves hidden as animals so that they can act without being noticed. What they plan to accomplish is yet to be known to the world. But soon enough, they all will know.......
Name:
Age:
Gender:
Rank: (5 more Angels of Death)
Transfiguration:
Wing Color:
Physical Description:
Personality:
Biography:
Misc. Info:
Other
Name:
Age:
Gender:
Physical Description:
Occupation (Ministry of Magic, Auror, etc etc):
Personality:
Biography:
Misc. Info:
--------------------------------------------------------------------------------
Angels of Death
1. GrandMaster_Chris- Rem
2. Adonis
3. Ration Kensei- Alexander Kenton
4. Chromatic- Reginald Cross
5. Evangeline- Rosa Lamonte
6.
7.
----------------------
Hogwarts Staff

1. Lord Marluxia- Rawana Havers (Head of Slytherin)- Potions
2. ThePromise- Raymond Prescott- Defense Against the Dark Arts
3. Chromatic- Reginald Cross- Transfigurations
4. Shinra X-2- Renn Gurski (Head of Gryffindor) Advanced Flying/Quidditch
5. Aliayha- Xania Heal- Charms
6. Solar- Adam Noir- Deputy Headmaster
-----------------------------------------------------
Students

GrandMaster_Chris- Blain Davis, 6th yr, Gryffindor
Chaosmax- Alexander Griffin, 5th yr, Gryffindor
KnightofSorrow- Ryan Hill, 7th yr, Slytherin
Silent Trinity- Shane Jameson, 3rd yr, Gryffindor
Aliayha- Lana Winchester, 6th yr, Slytherin
Raiton Kensei- Alexandria Kenton, 7th yr, Ravenclaw
Evangeline- Evangeline "Eva" Esperanza, 5th yr, Ravenclaw, Co-headgirl
ThePromise- Spencer Mactavish, 6th yr, Hufflepuff
Chromatic- Mina Karkov, 6th yr, Slytherin
KnightofSorrow- Jake Underwood, 1st yr, ?
List of Spells
List of spells - Harry Potter Wiki - Harry Potter and the Half-Blood Prince
​
Last edited: