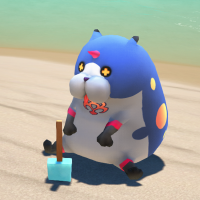 Site Staff Manager
Staff member
December is a very special time of the year. For many, it welcomes the pure joy and festivities of the winter holidays, with bright lights twinkling on newly chopped forest pines and the soothing warmth of hot steamy beverages. For others, it's the long awaited renewal of life as the new year is greeted with open arms and new years resolutions are finally acknowledged. But December 17th specifically is a special day for us here at Kingdom Hearts Insider, because it was on this day that we were first introduced into the world.

Exactly 10 years ago, Kingdom Hearts Insider was born as KingdomHearts2.net, a website that offered naught but a simple service where members could register to receive new information and updates through their email. Due to the circumstances of the time and age, to be able to boast that you could deliver anything for a series that had only been welcomed into the world a year ago was quite a feat, especially considering that the extent of progress in development was a completely mystery.
The original Kingdom Hearts concluded vaguely, to leave the story open to interpretation should the title truely stand alone, or to allow possibilities to roam if opportunities to expand were granted. Despite this, the game received critical acclaim and by April 2003, the game had reached one million sales in North America alone, with over three million worldwide. [1] It seemed only natural that the series be allowed to flourish, and when both Chain of Memories and Kingdom Hearts II were officially announced at Tokyo Game Show 2003, it seemed the time had come to make a move. [2] Within months, the forums were born and a small team of dedicated fans had gathered, ready to tackle the world head on under the proud banner of KingdomHearts2.net, at least for the time being.

We say that because on July 20, 2005, roughly a year and a half after the site launched, the site's received a new identity.[3] It was actually somewhat of a big deal, considering the circumstances of the change, and no doubt many still remember the cause to this day. Apparently the folks over at the Walt Disney Company weren't too pleased that this particular URL had been claimed by fans, and kindly requested that it be dropped via lawsuit. With this and the steady realization that the site would need a new adapt to the rapidly evolving series, KingdomHearts2.net evolved into KHInsider.com.[4]
The site evolved over the years just as much as the series it's dedicated itself to. The two became strongly connected and deeply interwoven. As we reach our highs and lows together and pull through to face the new days ahead, slowly but steadily, not only were we the world's first dedicated Kingdom Hearts fansite, but we also work our best to be able to continue honoring the title of being the absolute #1 news source for the franchise with the largest fan community on the web. [5]
Just look at how far we've come. The series has expanded to include 16 titles altogether, remakes, remasters and Final Mixes included, and KHInsider now boasts a grand total of 119,661 members and counting.[6] Kingdom Hearts has branched out to multiple mediums and inspires us to reach out to ensure that we will be able to offer every member and visitor exactly what they're looking for, so long as its within our reach. We believe that what we do, we do extremely well, and we will never promise what we cannot deliver.
None of this would never have been made possible without the continued support of our wonderful community, and all those who support us from near or far! Our hats are off to you, who give us a reason to continue this work to make KHInsider the best there is.
Happy 10th birthday KHInsider! May the next decade bring as much joy and success as the first, and much more!
[1] GamePro/PCWorld - Kingdom Hearts sold how many?! - December 27 2002
[2] Gamespot - TGS 2003: Kingdom Hearts sequels announced - September 23 2003
[3] KHInsider Forums - KingdomHearts2.net Changes Its Name - July 20 2005
[4] KHInsider - About Us - 2009
[5] KHInsider Home Page
[6] KHInsider Forums