Boring title I know but I figured there should be a thread discussing the actual game itself, how it plays, & what our expectations/hopes are.
I also must confess that I am far from the most qualified for this kind of thread. Aside from the occasional Audiosurf session back in the day, music rhythm games are not my forte in the slightest & typically crash & burn every time I have tried 1 of them. Ice Cream Beat is always a colossal headache & I hate how the Reality Shift for Symphony of Sorcery was reworked for the console versions of DDD (currently stuck on Riku's side on XB1 -_-). But no one else made this thread yet so I figured I'd get the ball rolling at least by channeling my inner GameXplain.
Anyway, the trailer & screenshots released so far have shown a world map & 3 distinct styles of gameplay. So far there are no official terms given for the styles, so, for the time being, I'm dubbing them "Course stage", "Event stage", & "Boss stage".
Course Stages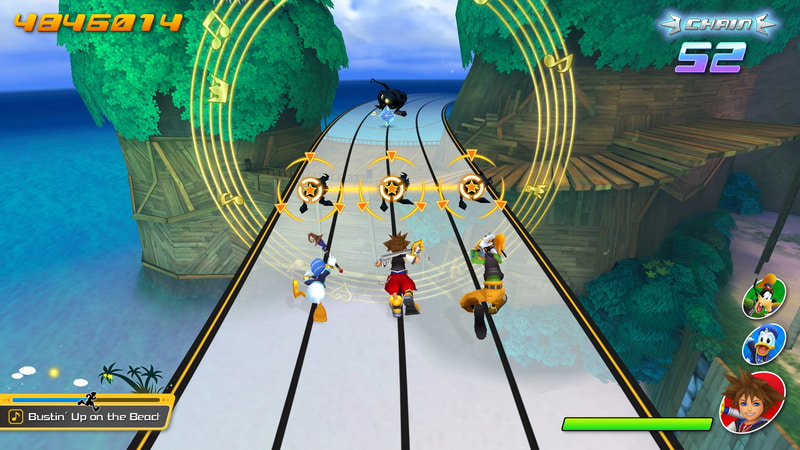 The base style of gameplay. KH1 Sora & his party consisting of Donald, Goofy, & sometimes a guest party member like Hercules, run along a track that goes through a world from a past KH game fighting heartless to the rhythm of the song playing. The style is at least somewhat reminiscent of many other rhythm games like the aforementioned Audiosurf or the Guitar Hero & Rock Band franchises:
Presumptions/theories/wild guesses part 1
: Party members likely take damage when the player fails to press the right input at the right time, which will deplete Sora's HP meter. I'm guessing the whole party shares a single life bar for simplicity's sake as there's enough for the player to keep track of as-is. The worlds have been altered for this game to be lengthier with winding paths & previously segmented zones are now seamlessly linked together.
The exact control scheme is currently unknown but it would seem that each party member is mapped to a different button. Using PS4 for sake of familiarity, Donald/left-side-teammate would attack when Square is pressed, Goofy/right-side-teammate with Circle, & Sora with X/Cross. It could be Triangle for Sora for all we know but I'm guessing that's unlikely due to A) tradition & B) Triangle likely serves a different role: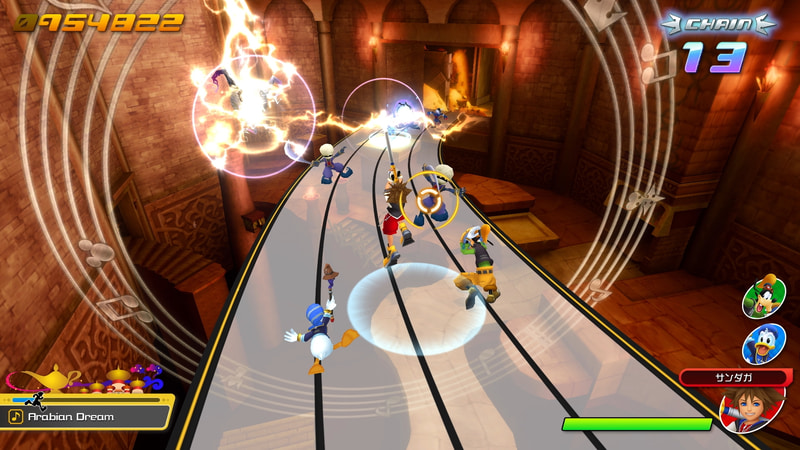 In addition to regular attacks, Sora is capable of using spells like Thunder & moves like Ars Arcanum (seen used against Xemnas). Additionally, a diamond-like object briefly appeared when the party chained a few combos on the DI course. In the Xemnas clip (see below) this same diamond triggers Sora's Thunder when the player presses Triangle. So I believe that's also the case here. It remains to be seen what other abilities Sora acquires or if party members get anything special.
Another pondering of mine is how exactly a course ends. Does the party simply come to a finish line or is there a "big finish" moment like a mini-boss at the end of the course? I could totally see the mid-bosses of each world (IE Cerberus, Pot Centipede, etc.) being the last challenge of any given course stage.
Also worth noting that a world can have more than 1 Course Stage. The trailer shows Destiny Islands with its exploration theme & 2 battle themes (
Bustin on the Beach
&
Night of Fate
). It seems a safe bet that most worlds will have at least 2 Course Stages. I suppose it COULD be possible for a single stage to have more than 1 song that it transitions midway through. Another question is the matter of worlds that have appeared in multiple games & have had wildly different layouts between them. Neverland in KH1 & Neverland in BBS couldn't be any more different with separate exploration/battle themes & locales. Does MoM only use 1 iteration or both?
Event Stages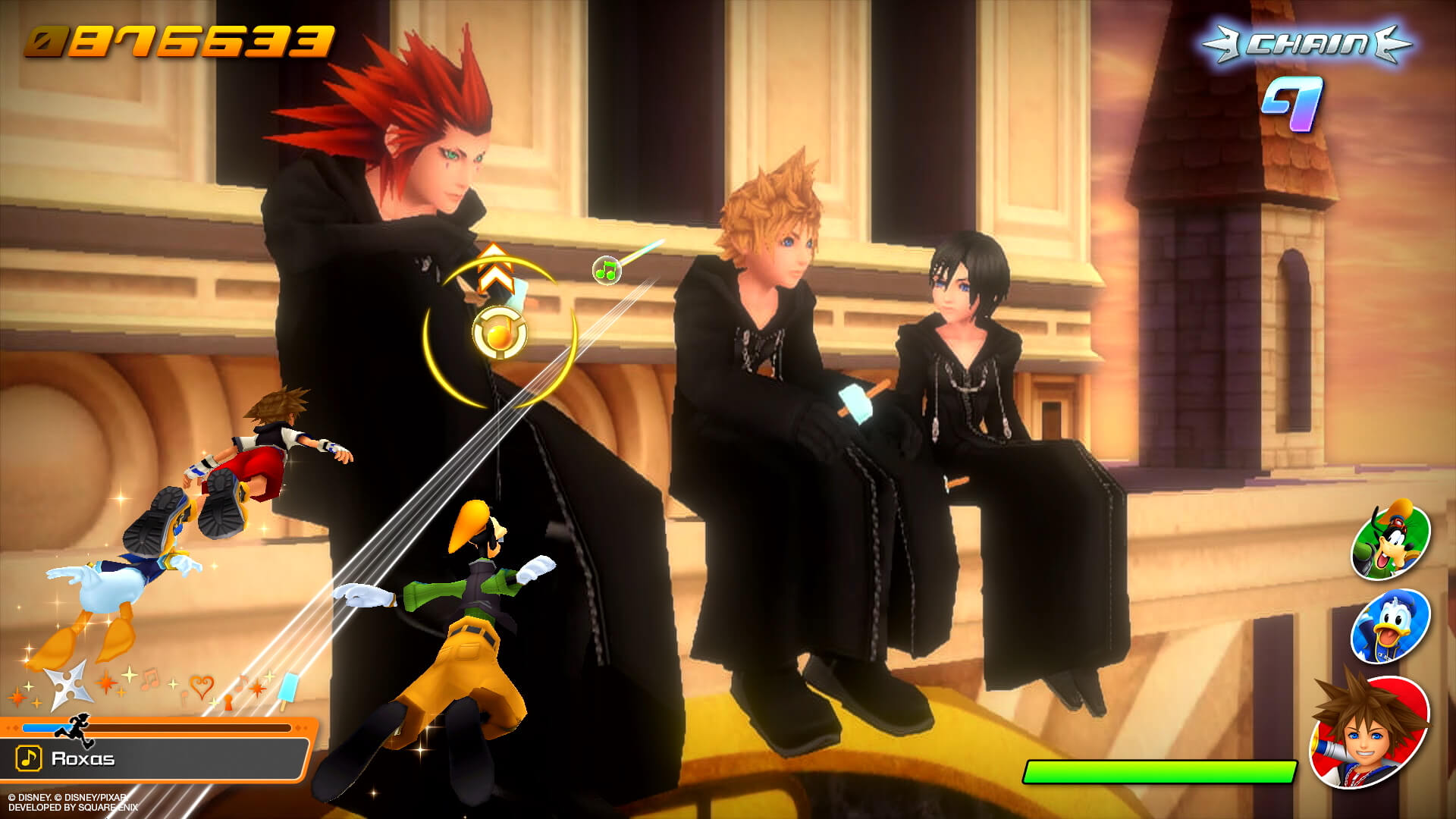 The 2nd style is one imported directly from Theatrhythm, a music mini-game that plays over a video of cutscenes from a correspondent FF game.
In this case, important moments (+ice cream eating) are shown in a montage while relevant music plays. This is pretty similar to the KH concert I went to a couple of years ago which had a video screen above the orchestra that also played montages. In fact, I'm fairly certain that MoM, in general, is basically the video game adaptation of those concerts.
Presumptions/theories/wild guesses part 2:
How many event stages will be in the whole game or per world/past game? Because of the graphical style of MoM, it would seem that there'll only be course & boss stages for KH1/CoM/KH2/BBS/DDS worlds. As such, Days, Coded, 0.2, & KH3+RE:Mind will ONLY be represented as event songs in all likelihood (unless Square's actually got a build of KH3 running on Switch somehow). If the player is progressing through the history of KH in order, that would be the backend of the game will be nothing but event songs, which would be a tad bit lopsided IMO.
The inputs are clearly different from course stages, with different colored notes which more clearly explain what the controls are than in the course footage. Red notes are basic taps of the action button. Yellow notes require pressing the left stick/D-Pad in the shown direction, & green notes require holding down the action button for as long as the little green trail indicates. It's actually the same colors for each input type as in Theatrhythm.
Boss Stages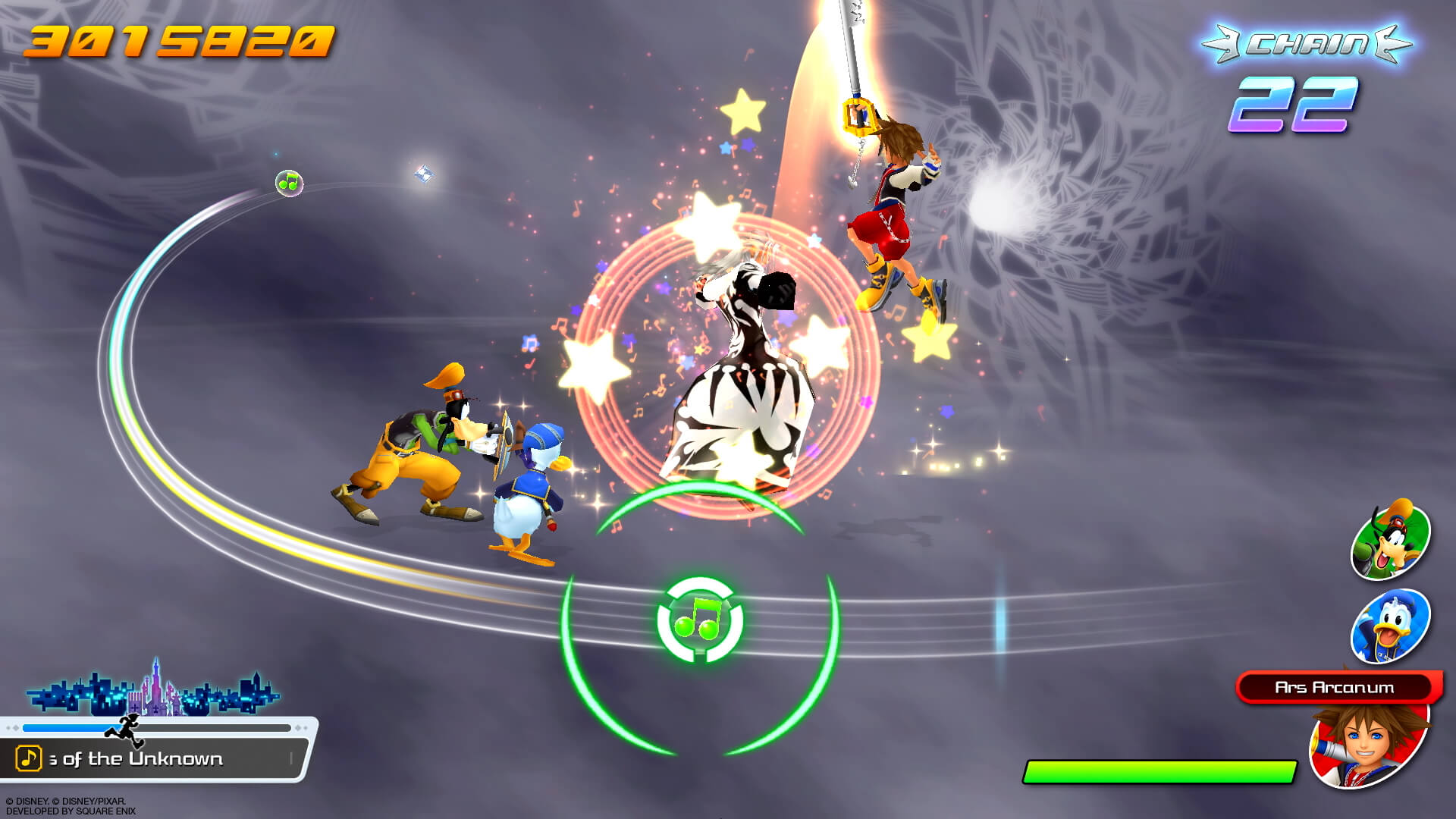 The 3rd style is the one that we see the least of & yet is probably the most fascinating of the 3 at least to me: a separate gameplay style just for boss battles. Theatrhythm didn't do this from what I've seen of it (keeping bosses in the same style as regular enemies, often in the same stages even), & is uniquely KH. The exact gameplay appears functionally similar to event stages but with a simulated battle between the party & a boss going on in the background. If anything it kinda reminds me of Danganronpa's Bullet Time Battles which serves as that game's bossfight analog.
The gameplay of Boss Stages is pretty much a combination of elements from the other styles with both Event style inputs & the diamond from Course stages that again is the source of Sora's Thunders. The difficulty seems to be increased with multiple simultaneous inputs being required at times. Naturally, a bossfight should be a test of everything the player's learned thus far so this is pretty fitting design IMO (even if I'm gonna hate it).
Presumptions/theories/wild guesses part 3:
There's no visible HP bar for Xemnas & thus it's not certain how this fight actually ends. When the player gets a high enough score? when an HP bar that is hidden from view is depleted? Or simply when the song ends? The track in question,
Darkness of the Unknown
, makes this particularly curious. That's a song with 3 different verses, for each of the 3 phases of the final boss of KH2. In theory, the 3rd verse should be playing for the boss shown but it's actually the 2nd verse we hear, the one that played for the 2nd Armored Xemnas that we hear. This would suggest all 3 verses play during this form, which begs the question of how the song switches verses. Does it happen automatically or does the player trigger the change somehow? Almost no other track in the entire franchise would have this issue.
Indeed, the fact that it is Zebra-Mode Xemnas that we're shown for this playstyle is very eyebrow-raising. Square could've just shown Darkside or Guard Armor & called it a day. So why Xemnas specifically? That question leads me to another: just how many boss stages can we expect? With 5 games of compatible graphics, there are over a hundred bosses that theoretically could in the game but there's no way it'll be anywhere near that many. If it's just 1 boss per world MoM would still have a very high number of bosses compared to most games in the series which makes me skeptical. Could it actually be that only the major late-game battles like Xemnas are in this? That would still be a sizeable number of bosses all added up (Rikunort, Ansem, all 13 org members, MX, Vanitas, Anti-black coat, YX, Ventus' armor=20 total) but a more believable number for a game that is relatively low budget.
Another thing to consider is that it is unlikely for a single track to be used in multiple stages, there isn't gonna be 4-5 Bosses stages that all have Vim & Vigor for example. & thus even with a 140 track-set, there may simply not be enough tracks for everyone. So I'm gonna try charting out a possible best-case-scenario line-up.
KH1
Destiny Islands=Darkside=Destiny's Force
Traverse Town=Guard Armor=Shroudding Dark Cloud
Wonderland=Trickmaster=Fight & Away (Days/Coded)
Olympus=Hades=Titans battle theme (KH3)
Deep Jungle=Oh no=it's dead Jim
Agrabah=Genie Jafar=Fight for my Friends (CoM)
Monstro=Parasite Cage=Struggle Away (CoM)
Halloween Town=Oogie Boogie=Squirming Evil
Atlantica=Giant Ursula=Ursula's Revenge (KH2)
Neverland=Captain Hook=Desire for All That is Lost (KH2)
Hollow Bastion=Dragon Maleficent=The Deep End
Rikunort=Forze Del Male
End of the World=Ansem=Guardando Nel Buio

CoM
Vexen=13th Reflection
Larxene=Scythe of Petals
Riku Replica=Force in You
Marluxia=Lord of the Castle
Riku's Story Event Stage (with Zexion/Lexaeous/Ansem featured)=Revenge of Chaos

KH2
Twilight Town=Axel=13th Struggle
Land of Dragons=Shan Yu=Vim & Vigor
Beast's Castle=Xaldin=13th Dilemma
Disney Castle/Timeless River=Pete=Rowdy Rumble
Port Royale=Barbossa=Davy Jones/Dark Baymax theme or maybe The Corrupted (Grim Reaper's theme)
Pride Lands=Scar=The Encounter
Space Paranoids=Sark/MCP=Sinister Shadows (Sark's 1st form theme)
Xigbar=Black Power (BBS)
Saix=A Fight to the Death (Xemnas)
Demyx=Tension Rising (Xemnas)
Luxord=Disappeared (Xemnas)

BBS
Enchanted Dominion=Wheel Master=The Tumbling
Dwarf Woodlands=Mad Treant=Unforgettable
Castle of Dreams=Cursed Carriage=Extreme Encounters
Deep Space=Gantu=Dance to the Death (KH2)
Master Xehanort=Fate of the Unknown (Trailer theme)
Vanitas=Unbreakable Chains
Terranort=Dismiss

DDD
Notre Dame=Wargoyle=Majestic Wings
Prankster's Paradise=Chill Clawbster=Ice-Hot Lobster
The Grid=Commantis=Gigabyte Mantis
County of Musketeers=Holey Moley=Untamable
Symphony of Sorcery=Chernabog=A Night on Bald Mountain
Young Xehanort=L'Impeto Oscuro
Ventus Armor=Eye of Darkness
Yeah, that's a lot of track shuffling just to make 1 boss per world even work. Still, 40ish boss stages out of 140+ total stages probably is a good number. Still leaves around 100 for courses & events. I suppose that could work but I doubt Square will wanna break canon that much just to make sure some bosses get their own track.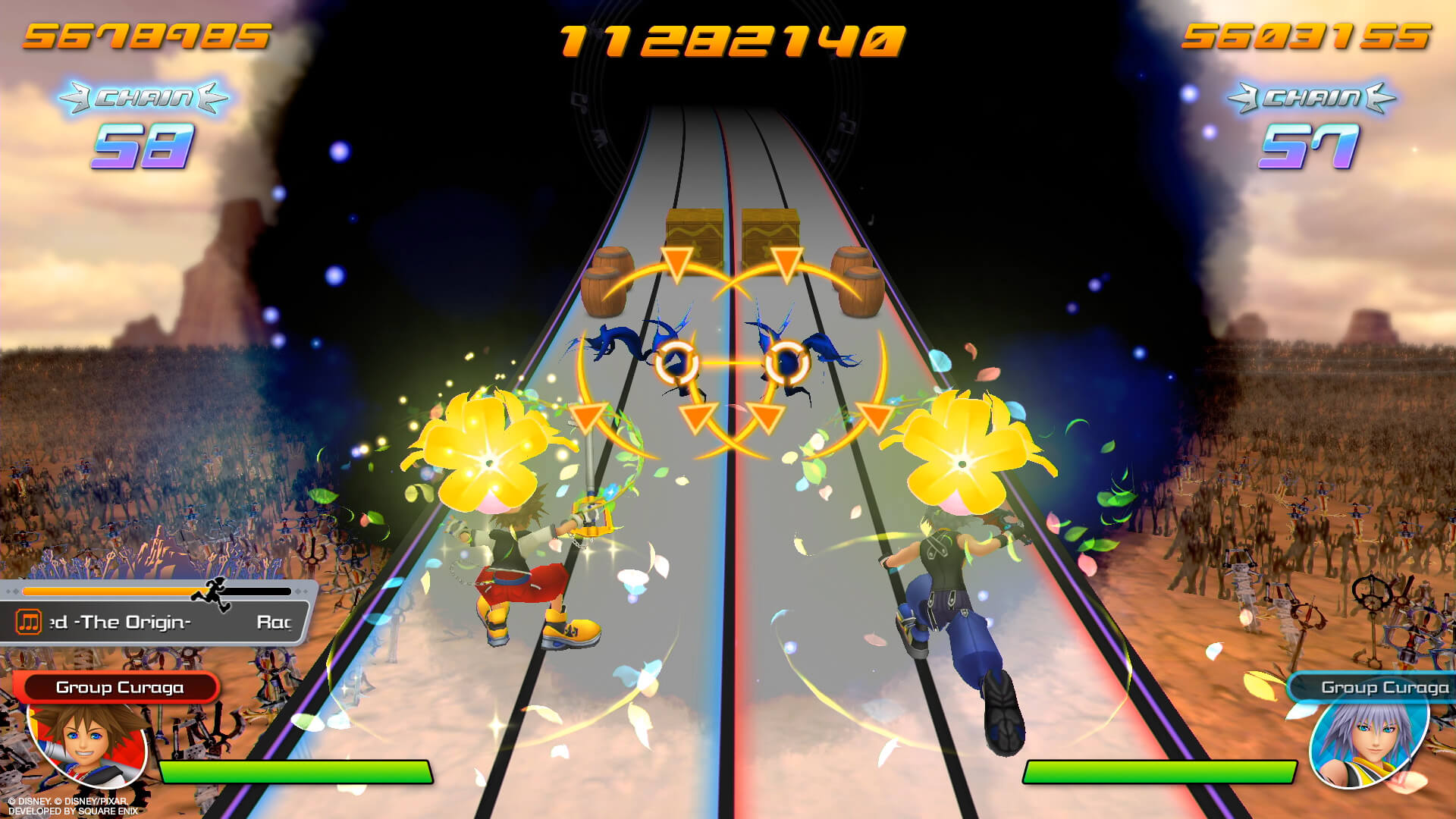 Further complicating matters is that boss tracks can apparently be in Course Stages too. Keyblade Graveyard doesn't really have a battle theme of its own but still surprising that
Rage Awakened
-The Origin-
is played here & leaves me wondering what other boss themes will show up in Courses & Events.
MULTIPLAYER
The above screen shows the Co-Op mode which is at least local if not online as well. I've been wanting so damn long for a true co-op KH I tells ya. Ever since I introduced my SO to the series I've always wished I could plug in a 2nd controller & take control of a party member instead of just watching her play. If Tales of Symphonia & Sonic 2 can do it why not KH?! Go figure the 1st game in the series to finally make it happen is a friggin' rhythm game. Well played Square.
Presumptions/theories/wild guesses part 4:
KH1 Sora & Riku in the BBS Graveyard is certainly weird. Perhaps it's meant to represent the KH3 Graveyard despite using assets from another game?
Anyway, Versus mode. 2 players play as Sora on their own screens & try to outscore the other. Clearly there are some ways of interfering with the opposing player's progress by inflicting status conditions on them.
World Map
Oh look, buttons! Square is never subtle who the favorite child is when it comes to hardware.
Progression through the game requires a specific number of stars from clearing missions in each world. This is raising a red flag for me. I very much hope for a Beginner difficulty setting but I fear it'll be a case of more stars awarded at higher difficulties & thus be impossible to finish on Beginner. Please have mercy on me, Lord Nomura-Sama.
Kairi/Endgame
I didn't want to talk too much about the Kairi story here because there are threads for it already. But my final speculation is how the game ends on the gameplay front. As I said earlier, if Event Stages serve to cover games that have that PS2/PSP/3DS graphical level, then the backend of MoM is gonna be heavy on them due to 0.2/KH3/possibly UX. I would also think it would be anti-climatic if it all just ends with the player finishing recapping the series. As such, I'm inclined to think the Kairi story culminates in 1 last Boss Stage of her vs. Data-Black Coat or possibly another adversary that shows up which serves as the big finale of the whole shindig. No, I do not think she's getting some awkwardly wedged-in normal gameplay scenario that's uses KH3 tech but somehow still uns on Switch.