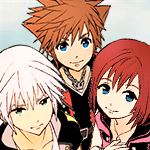 Joined

Dec 5, 2009
Messages

2,238
Awards

6
Location
They got restrictive because their brand as a mega corporation recovered in the 2010s whereas prior to that, the Disney brand was in a bad place. With tons of money and a more cohesive, unified image as a company, they are more controlling on how their larger brands are depicted in any Disney media.

It's largely why we see arbitrary rules in their brands, too, like how the Disney Princesses are to never look at each other in any merchandise or marketing material because they exist in separate "realities". They allow exceptions but its rare.
It's just so strange considering that they own a movie franchise that shows how luxurious a connected universe can be and their biggest game series is a crossover game, which largely appeals to people because of the crossover potential.
Also in Wreck-It Ralph 2 one of the most promoted scenes were the Princesses interacting together. So it's not like they don't know the appeal having them together holds.
I mean how cool would it have been, if Disney didn't have that rule in place and all the party members from previous games had come to the Keyblade Graveyard to hold back the heartless while the Guardians moved forward to face the Seekers?
I get wanting to protect your brands, but to me it seems like their actions are holding them back from actually doing really cool stuff with them.