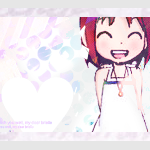 Proud Demyx/Kairi Shipper
Joined

Oct 12, 2007
Messages

4,281
Awards

1
Location
A/N: Happy (early) Halloween!
Well, this story's got some history behind it. I wrote it last year but AFTER Halloween, so I couldn't really post it. Then I lost the file and had to rewrite it, make some changes, etc. but it's finally getting put up! And hopefully it's one of three Halloween fanfics that I'm putting up as a sort of countdown to Halloween, with the last one being on Halloween itself! We'll see if I can defeat the evil forces of Writer's Block long enough to write and complete the other two in time.
Anyways, on with the fic...
Pairings:
SoNami, but in some ways it's more of a SoRiKaiNami friendship fic. What can I say, I love that fictional quartet!
Setting:
It's an
AU
where Namine was really a childhood friend of Sora's, both pre-KH1 and post-KH2. Kind of like my Christmas SoNami fic that I wrote last year.
Summary:
It's Kairi's first Halloween on Destiny Islands, but Naminé is too scared to join in the festivities. So it's up to Sora to remind her of why she never needs to be afraid of anything while he's around!
Disclaimer:
I don't own Kingdom Hearts. Or Jecht, Tidus's father from Final Fantasy X. But he doesn't show up very much.
"For Keeps"​
Naminé sat hunched over her sketchbook, drawing another beautiful Destiny Islands sunset. Normally her best friend Kairi, who was sitting next to her, would be enjoying the gorgeous red and pink sky too, but not today. Today she was tapping her foot impatiently and continuously staring at her watch. "Once again," she announced with a sigh, "You and I are the only ones here on time!"
"Don't worry, they'll be here," said Naminé idly, "They'd never let us down completely, would they?"
"No, and I know Sora's the laziest boy that was ever created, but they could at least
try
once and a while, right? Oh wait- here comes Selphie now!"
"Sorry guys!" called the cheerful Selphie, who made up the third and last girl in their little circle of friends. She was running towards them as fast as she could with her purse swinging in her hand. "I was just talking to Tidus and Wakka. They told me to tell you guys not to wait for them, because they're going to be running late. Which means they're probably plotting to go to this 'haunted house' early and pull a prank to scare us!"
Naminé shuddered. "Oh, I hope not! I'm scared enough about this as it is!"
Kairi smiled and put an arm around her friend. "Don't worry, it'll only be Tidus and Wakka! Besides, if anything really scary shows up, I'm sure it's nothing our legendary Keyblade Masters couldn't protect us from, eh?"
Naminé smiled softly. "You're right," she said quietly, "I know they would." Those words had reminded her of Kairi's first Halloween…it had been eleven years ago, and the incident that came out of it had all started while she had been watching a sunset rather like this one.
***​
It was the end of another long, blissful day, and Naminé was sitting at the end of a long dock, next to her best friends: Sora, Riku, and Kairi. And then Sora had brought up the very last topic that the little four-year-old girl wanted to think about. "Hey Kairi!" he asked cheerfully, "What d'you wanna be for Halloween?"
"What's a Halloween?" asked Kairi curiously.
"You don't know what Halloween is?!" cried Sora and Riku in unison.
"No! What is it?"
"It's the BEST holiday EVER!" shouted Riku.
"Except for Christmas!" Sora reminded him.
"Oh yeah, except for Christmas."
"You get to dress up in a costume, and then at night you run around with all your friends and go knocking on people's doors, and when they come out, they give you candy!"
"Really?!" Kairi gasped, "But why?!"
"Because it's Halloween, duh!" said Riku, "That's what everyone does! Like getting presents on your birthday!"
"Ooo, it sounds like fun! Can I play Halloween with you guys?"
"Sure!" said Sora, "You just need to get a costume! I'm gonna be a pirate!"
"What are you gonna be, Naminé?" asked Kairi excitedly. She wanted a girl's opinion on what to wear. But Naminé didn't answer; she just stared down at her lap and mumbled something incomprehensible. "What did you say?" asked Kairi.
"Naminé doesn't go trick-or-treating with us," explained Sora quickly, "She doesn't like Halloween."
"But why not?" cried Kairi, "I thought you just said it was fun!"
Naminé shivered. "No, it's really scary! I tried to go trick-or-treating once, but it was dark outside and there were all these scary people with masks on, and there are monsters that'll eat you if you don't watch out!"
"Monsters?!" asked Kairi nervously.
"There aren't monsters!" protested Sora, "Who told you THAT?"
"Riku did."
"Well, there ARE," said Riku defensively, "Vampires that can come out of the sky and suck your blood, and ghosts and skeletons and zombies and the Magic Water Horse that pulls you into the sea and eats you up!" Naminé screamed, pulled her feet away from the edge of the dock, and wrapped her arms around Sora in terror.
"Stop it!" yelled Kairi, "You're scaring her!"
"Sorry Naminé," said Riku sheepishly, "I was only kidding!"
"Hey," said Sora, "What if you went with trick-or-treating with us? You don't have to wear a scary costume, and we'll protect you from any monsters that show up! Right, Riku?"
"Right!" They both let out fierce war cries and held up their wooden toy swords to impress the girls.
Kairi giggled. "Yeah, could you do that? Please?! 'Sides, it'll be my very first Halloween and I want you to be there too!"
"I guess so…" said Naminé slowly, but she still looked doubtful.
Her parents were thrilled to hear that she actually wanted to go trick-or-treating with her friends. They had often debated over what would be the right age to prod their daughter into doing it anyway; figuring that she needed to learn to face her fears and have some fun with the other children in the neighborhood. But they could also tell that Naminé wasn't exactly looking forward to Halloween night, so they agreed to come along and help chaperone the kids. Naminé felt a little better after that.
When Halloween arrived, Naminé went over to Kairi's house with Selphie to get ready. They had decided to all be witches together and waited in line while Kairi's mother spread green paint over their faces. Well…Naminé was waiting patiently. Kairi and Selphie were too busy bouncing around the room, making up songs about how much candy they were going to get! "Girls, hold still!" Kairi's mother chided.
Suddenly, the door opened and a little vampire walked into the room! Naminé gasped and tried to run away, but she tripped over one of Kairi's toys. "Nice going Riku!" she heard Sora saying, "I told you it was too scary!"
"You're the one who said I should add blood!"
"Does this mean we can go now?" asked Kairi eagerly as she helped Naminé to her feet.
"Yeah, Tidus and Wakka are downstairs. And Wakka's a zombie, so don't get scared when you see him too, Nami," said Sora, "Tidus is okay, he's just a blitzball player again."
And so a trembling Naminé went off with her friends into the dark night to go trick-or-treating. It turned out not to be as bad as she had anticipated. The rest of her friends encircled her the entire time, so she wasn't as exposed to some of the older kids' scarier costumes, and she even started to get excited as her candy bag grew fuller. Most of the houses were lit up anyway, and the doorways were all filled with the familiar faces of her neighbors, which made the whole thing less creepy.
And then they got to Tidus's house.
The lights in the windows were dim and the decorations were a lot spookier than before. Naminé shivered again and held on tightly to Sora and Kairi's hands, trying to remind herself that it was only Tidus's house. Tidus himself ran up to ring the doorbell and they all waited. Then, the door slowly began to creak open, but no one was there! Naminé's heart was pounding like crazy, and then a figure with a horrifying, grisly face leaped out at them from behind the doorway! They all screamed, but Naminé dropped her candy bag, wrenched her arms away from Sora and Kairi, and ran as fast as she could down the street, sobbing in terror. She was so panic-stricken that she couldn't hear her friends or her parents calling to her, or Tidus yelling, "Wait, it's just my dad!"
The frightened little girl just kept on running, not knowing or caring what direction she went in as long as it got her away from the scary monster. It wasn't until she was too tired to keep going when she suddenly realized that she was totally lost. "Hello?" she called out in a trembling voice, "Mommy? Daddy? Where is everybody?" No one answered, and she immediately plopped down in the middle of the street and began to cry.
"Naminé? Naminé!"
She lifted up her head hopefully at the sound of his voice. "Sora? Is that you?!"
The spiky-haired pirate quickly came into view and rushed over to her. "There you are! Are you ok?"
Naminé hugged him tightly and broke down crying again. "I'm s-s-so scared Sora! Did the monster eat everyone else?!"
"No, it was just Tidus's dad in a costume," explained Sora, "But I don't understand- why'd you run away from us?"
"Because I was scared!" cried Naminé. What was so hard to understand about
that?!
"I told you guys that I don't like Halloween!" When she looked up into Sora's face, she was surprised to see that he looked hurt. "What's the matter?"
"It's just that I said I'd protect you, but you still got scared!" He reached into his pocket and pulled out a small, yellow star-shaped keychain- the good-luck charm that she'd given him not too long ago. "How am I supposed to keep my promise when you won't let me protect you and you run away?"
"I…um…" Naminé was completely taken aback. She'd been so scared the whole night that she'd forgotten all about Sora's promise to protect her! "I guess it's hard to think about stuff like that when you're really scared," she said, "But maybe I wouldn'tve been so scared if I'd been thinking about it in the first place! 'Cause I know you'd never let me down!"
Sora grinned. "That's right! Why else would I bring my sword?" he asked, and she laughed.
"Naminé? Hey guys! I found her!" The two friends looked up and saw Kairi at the other end of the street; she was followed by their parents and the rest of the kids. "Are you okay, Nami?" she called.
"Yeah, I'm fine!" replied Naminé, as she gave Sora a big smile.
"Sorry about my dad," said Tidus, "He didn't mean to scare you like that."
"Ha, you should've heard Tidus! He screamed like a girl!" Riku told her.
"I did NOT!"
"Did too!"
"Here, we brought your candy with us," said Kairi as she placed the bag in Naminé's hands, "Are you sure you're okay now?"
"Uh-huh," she replied. Maybe Halloween wasn't such a bad holiday after all. Certainly not when Sora was around!
***​
"Hey guys, sorry we're late!" said the now sixteen-year old Riku, as he and Sora jogged over to the trio of girls, "This slacker forgot what time we were supposed to meet you here."
"You could've tried remembering yourself!" grumbled Sora.
"Whatever, we're here now, right? Let's go see what Tidus and Wakka cooked up for us at this so-called haunted house!" said Selphie.
Letting the other three lead the way, Sora hung back and put his arm around Naminé as they began walking down the street together. "Hey," she asked him quietly, "Still got it?"
Sora grinned and pulled out the good-luck charm. "Yep, still got it!"
- The End -​
Reviews are very appreciated. Happy Halloween!