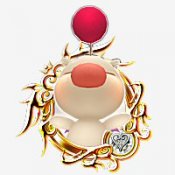 We are Moogle! Hear us...kupo?
Joined

Oct 5, 2009
Messages

8,349
Awards

17
Location
They're not even translations. Because last time I checked Komory Bat does not mean "Koumori Bat" when that says Bat-Bat. Or Me Me Bunny does not mean "Mimi Bunny" meaning Ear Bunny. :| It's just gibberish.
Even worse lol, I guess they just took the same pronunciation in case a Jap. only speaking person and an English only speaking person meet up, they can just repeat DE names to one another and know what the other one is talking about (at least for most of them) jkjkjk
Isn't Squirtle a mix of squirrel and turtle?
You know, that is a good question. I have no idea because they both fit. "Squirt" involves water, but Squirtle has a "Squirrel" like tail...
Anyone want to try to come up with better pun-names for the Dream Eaters that aren't Escarglow? =3

Here's my attempt:

Meow Wow = Magnificat/Magnifikitty
Chef Kyroo = Royal Chef (...or some kind of Princess and the Frog reference! XD)
Jestabocky = Jespecter
Char Clawbster = Flarestacean
Me Me Bunny = Bunnear (...is this too close to a Pokemon name? I get the feeling it is, but I only know the first 250 or so)
Peepsta Hoo = Owlook

(Yeah, they're pretty bad, but, what the heck!)
Meow Wow = Wonderfeline / Fantasticat / Supurr / Supurrb
Chef Kyroo = Gourmetoad
Jestabocky = Buffloon / Clownder / Madjaper
Char Clawbster = Clobster / Lobsear / Lobstear / Lobsthermo
Me Me Bunny = Rabbitty / Buny / Punny
Peepsta Hoo = Hooter / Nightfowl