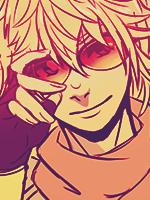 Joined

Mar 31, 2008
Messages

12,509
Awards

3
Age

27
Location
A KSX/Eva/DJQQ Creation
​
Spira over the years has grown not only culturally, but technology-speaking it has evolved into such lengths that now every village, country, and town is now thriving on high towers, air cars, and more usage of Machina technology.
It's been a good three thousand years since the defeat of Sin, The Calm providing an era of peace, followed by inevitable war. This process is unmistakably a part of the natural cycle of life. The legends of High Summoner Yuna and her guardians lives on not only in the hearts of everyone, but in Besaid, the Temple is named in her honor. Spira truly thanks Yuna for all of her hard work, and her guardians will forever be remembered.
The last war that broke out was between the Ronso and Al Bhed. The problems of territorial boundaries broke out, and the treaty to lend each other resources was broken, leading to a series of conflicts. It was eventually settled, and the calm was once again present. However, this is where things began to take a turn for the worst.
The Church of Bevelle, The Al Bhed, and a recently established faction of exiled Ronsos began to bicker over small stuff, at first anyways. They fought for control of Spira's black market. That was only the stepping stone. However, soon things escalated into weapon control, power, money, and anything a rising evil organization would want. At first their goal was complete domination of Spira. By domination, this means control of everything in existence.
But soon, there arose a new factor. One that proved to be even a bigger challenge and greater asset then anyone anticipated. They were called…
Fragments of SIN.
Not much can really be said about the FoS. They are a group of people who move in the shadows. Their identities are hidden away from the public. The rumors of them once being summoners to take on The Omen that threatened the calm still are spread among the citizens of Spira. Even more news about them broke out when several people began to go missing. Some say this was due to the conflicts between the factions out to conquer Spira, but others say it's more dangerous than that. Some say that this was actually the work of the Fragments of Sin. Some actually say that this is the first step of reviving sin. As you can see, there are a lot of rumors, but none that are verified.
News of the danger of the FoS and their summons spread all over Spira. The high priests of each temple began to pray and pray. Even after several days, weeks, and even months of praying, nothing came. They had no messages from the Fayths , no signs of hope, no glistening light that would help them understand. In time, the Temples were forced to close and put under heavy protection, preventing any further danger to rise from them. Even with the news of three summoners being chosen to fight the FoS, Spira's belief in the Aeons was lost.
Then, the word spread across Spira. A majority of people were not pleased. Those very same people still think that the Summoners were the reason behind all the war, all the conflicts, and what brought the first coming of Sin. Even through all of this, they are needed to complete one more Pilgrimage, one more chance to prove that they are not bad, and one more chance to prove to themselves and Spira that they are not bad omens.
However, news spread of another shadowy figure. No one knew of the identity or who it was, but some say it is something that even the Fayths fear it. They fear it so much that they refer it to as "The Omen" Such a name given to such a terrifying being.
This truly is the dawn of a new era…
Last edited: