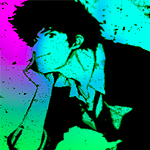 Joined

Sep 9, 2005
Messages

3,549
Awards

0
Location
Website
The room was big and fancy, as expected given the rest of the building. Plush red carpets, brown walls lined with books, odd trinkets and statues, and a circular chandelier, the size of the ceiling itself. The back wall of Apu's room, which the dealer's desk sat directly in front of, was made entirely of glass, giving a glorious view of the Bevelle skyline. If one paid enough attention the the outer view, they would notice how perfectly one building outside's ceiling lined up with Apu's window.

Arcade and his men were inside, with the Boss himself sitting in a large leather chair directly across Apu's seat at the desk. Both of his goons were stationed at the door, blocked by three of Apu's own suits. Mr. Gambit was surrounded by burly men, all armed to the teeth with state of the art Machina. The Hypello had to have at least ten men in his room, all with their fingers on the trigger--iron sights on the Ol' Cat.

"Mistah Arcadeh Gambht. I hear some interesting thinghs abouth yooh," The tiny blue man began, leaning over the large wooden desk, he waved his long hand at one of the suits, prompting them to exit the room.

"Oh really now?" Arcade said with genuine curiosity, "I'm just a business man. What could possibly be said about me?" He folded his left leg over his right and stroked the side of his beard. "You know, except the usual, aha." The Hypello blinked both of his bug eyes before he replied.

"Hm, Mistah Arcadeh Gambht, we both knowh youh are noh ordinaryh bushinessh maneh."

The door opened up again, the suit now holding a bottle of white wine. The man gingerly walked towards the seated Head Honchos, reaching for two glasses on one of the wall shelves. "Sir," He mumbled once he reached the desk.

"Thank yooh Pablo. Mistah Arcadeh Gambht, a drink?" Apu motioned towards the bottle that Pablo poured; the finest brand Spira had to offer, brewed deep inside the Calm Lands. Arcade frowned though, noticing that the Hypello drank none of his own glass.

"Why not? I prefer red wine normally though," He joked, pressing the elongated glass to his lips, "Mr. Apu. I did come here on business today, I'd like to get that out the way--you understand?" The fedora clad man took a small, careful sip of the drink in his hands. If he did drug it, he'll be in for a surprise.


"Yesh, yesh indeed. Pleash go onh." Apu was throughly examining Arcade's movements.

"Thank you," He smiled and set his drink back on his end of the desk, "I'll keep this short and sweet Mr. Apu. With the return of Sin, and the death of High Summoner Yuna, people are going to want protection--which your establishment can provide Your profits are going to spike...and I want in on that profit. Say, fifty percent?" Apu and his men exchanged glances, causing the suits to step a bit closer towards the desk.

"Ohh, that's a nooh can dooh Mistah Arcadeh Gambht. Yooh seeh, I needh myh moneysh," The blue Hypello paused, "Allh ofh iht." Quickly, the creature dug into his breast pocket. "Yooh seeh, I haveh my menh workingh on somethingh largeh." Out came a brilliant looking cerulean sphere, glowing with some level of ferocity. "Have yooh heardeh the legendsh? Mistah Arcadeh Gambht, these spheresh, onceh all sevenh are gatheredh, somethingh 'specialeh' happensh." Arcade's grey eyes widened.

"That's some legend....made any progress?" This trip to Bevelle might prove much more prosperous than he had thought.

"Thish is allsh we haveh for nowh, but my menh haveh alreadyh detectedeh the signaturesh of onesh in Besaideh and Lucah, and--"

At that moment, Porn-Stache began to twitch morn than usual. A bright blue light emitted from his back pocket--an orb shaped light.

"Mr. Apu!" One of the suits hollered, causing the tiny blue man to leap up.

"B-B-Boss!" P. Stache hollered, his hands gripping his guns. "Auuuuaaaaah!" He unsheathed his guns, inching back towards the door.

"It looksh likeh we just foundh our secondh sshphere..." Apu crossed his arms, a wide smirk crossing his stretched face.


Arcade sighed deeply, "Nothing ever goes smoothly these days," He tilted his head just a bit, trying to see past the Hypello and outside the window. With his left hand he gave a tiny wave.

"Thanks for the drink by the way. Wasn't bad."


At that moment, a lone bullet ripped through the glass behind Apu. It came so suddenly and swift the poor blue man didn't stand a chance. It tore through his skull and stopped it's joyride only when met with the thick wood of the desk. Eyes wide and lifeless, the Hypello dropped back into his chair, tiny body limp.