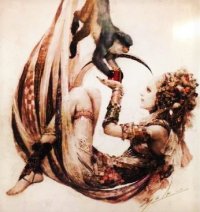 Joined

Jul 30, 2016
Messages

3
Website
Good day everyone!
First of all, I would like to re-introduce myself as Final Fantasy Network's current administrator along with Arielle. I want to apologize for not being active in our own forums as I have been more busy in setting up our new Discord server as well as other activities both in and outside the site.
(Meet the current staff!
Final Fantasy Network » Staff
)
Our Discord server:
Final Fantasy Network » Discord
Personally I want to invite everyone here to move to Discord, which I have carefully structured to meet the needs of every spinoff and mainline fan. I have organized channels for every FF fan, and the voice chats are easily accessible for everyone. The current staff are all active there, and we are hoping to increase and enrich the server's activity with the eventual transition of the FF community here over there.
It is, of course, absolutely fine if anyone disagrees and chooses to stay in this place. However, I personally encourage people to move there as Discord acts as the modern-day forum which allows more possibilities for the community such as more accessible live events with a closer integration with the website. You will be more in touch with us and produce more possibilities for FFNetwork as a fansite.