Joined

Sep 8, 2009
Messages

722
Awards

0
Location
The vast variety of weapons a ninja was trained to manipulate were quite elaborate but have become a cliche in pop culture.
I could only list ten weapons in the poll so if there is another weapon you prefer please list and describe it below.
The Katana, which was a sword that was used as tool more often as a weapon. Using all of it's aspects to reach higher places or fight off various foes. One of the most versatile weapons for any warrior, especially a ninja.
The kunai was originally used as a gardening tool. It's a trowel like device that is used for gouging.
The shikoro was actually two weapons. It was a saw with a triangular blade and also a sword with teeth.
Shuriken are weapons we are all familiar with. Always seen in the Kung Fu movies. The shuriken was a throwing star which came in many different shapes and sizes. Some would have 4 points, others would have 8.

This was, in feudal era times, a small wooden ring with a projecting wedge that was used to target pressure points.
Hijos were gunpowder-filled balls of paper with a sharp stick stuck through it to be thrown like a dart.
These are called Hokode. They were used to make quick work of enemies by just swinging your arms.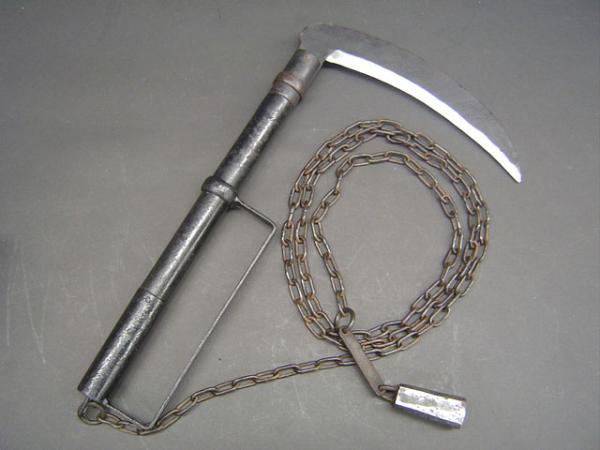 The Kusari-Gama was a chain and sickle combination that was used to climb as well as for combat.
Halbred or naginata was a weapon not to often used by the ninja because of it's size but was a very efficient way of getting things done.