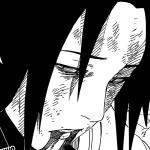 need some more candy cane
Joined

Jan 18, 2010
Messages

5,624
And you consider that a "necessary" reason for his return? We would have been just as well off with a storyline in which he hadn't returned and Riku simply struggled with accepting his own darkness.

Any villain returning can almost immediately be classified as unnecessary. It doesn't automatically make it a bad thing, though.
In any case, considering that you have no idea how Vanitas could/would return, you're not really in a position to say whether it's necessary or not.
I never said that it would be a bad thing, but sure okay.