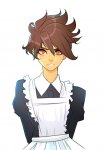 Joined

Nov 30, 2006
Messages

5,430
Awards

5
Location
Chapter 1: The Death of a Crow

Fire scarred the once proud building that was held in secrecy. The once packed building that held powerful super-humans that would have fought and died for the city they loved in a heartbeat. It was shrouded in deceit and backstabbing, funded through mysterious and suspicious ways; the Section III headquarters was void of any sentient life save for two.

A woman of about 17 years old stood in the center of the mess-hall, she wore a humbling white blouse with golden buttons on it with a mini skirt that had keychains and toys hung on the pockets. She was the image of perfect beauty as her baby face, normally fixed in a bright beautiful smile, wore an expression of resolute anger. Her short brown hair that had multiple highlights of purple, red, blue, pink and black – that consequently earned her the nickname "Rainbow head" – was frizzy and messy. Her blouse was torn and cut with a large gaping hole underneath her right breast that exposed her firm and fit curves underneath a chainmail shirt that was untouched from the apparent damage. It was cut above her breasts leaving them bare, save the chainmail vest that acted as a thin barrage to her sex. Her skirt was torn as well revealing her crotch that was scarcely censored from her panties except those inconspicuous cuts over them. Her legs were trim and well-fitted but they were bruised and stained crimson from her dried blood. Despite her sensual appearance her eyes burned with the fury of ten thousand demons.

Across her was a weathered old man crouching on his knees in apparent pain. He cupped his left eye as if it hurt to leave it exposed but he was worse off than the woman. His face was bruised and cut and he was coughing up blood constantly, his arms and legs were bloody and there was a large crimson gash from his right shoulder to his left hip. His clothes were torn and stained with blood, but his eyes were steady and filled with hatred as he glared at the woman. Gingerly, without removing her eyes from his face, she knelt down and picked up a black katana with stained blood on its blade. Then expertly brandishing her sword with a quick slash at the air she pointed the blade at the old man who returned the gesture by fixing his eyes on hers.

"Hmph, such young talent… is being wasted by that man! I never would have thought an assassin of your caliber would be swayed so easily by kind words." He spat out bitterly, but the woman apparently hadn't cared for his words.

"Izumi has shown me horrible things, but worst of all he's shown me the horrible things you people have done." She quipped coldly, "But Izumi is the least of your concer-"
"BAH! That man will drive this city and the entire world into the ground if his influence continues to spread!"

"…."

Pain racked his chest, he was struggling to remain conscious but was losing fast. He focused on the woman, it was a terrible shame someone so beautiful could look so angry.

"The other Prophets," she spoke suddenly and a chill went down his spine, "Where are they?"

"… Wha-what do you plan to do?"

"Simple. After I kill you, I plan to slaughter every other Prophet and end this cycle of madness invoked by you senile old men."

He laughed bitterly, those weren't her words, those were his words.

"All of this because of Minoru?! You are no better than those people he commands, you are simply mindless cattle being herded along like ignorant fool-"

His sentence never finished as a strangled gasp was choked from his throat as the fibers and muscles of his neck were swiftly sliced in an almost elegant manner. It was a painless death, his head silently crashed to the floor as it was separated from his body in mere seconds. His body convulsed and shuddered in an awkward dance as it slumped over lifeless.

The assassin never existed, she was never there and the man: Karasu a high-ranking Prophet, had died unfortunately in a fire, his body would never be recovered. In an unrelated incident, seven other Prophets tragically met their ends as well, each of which their bodies were either never found or destroyed in the accident that caused their deaths.

Ui Kurokami was a woman driven to madness. However despite this she was more than capable of rationalization. Minoru Izumi a man who fell far into darkness was the one who showed her the light, and showed her just how harsh that light can be.
Last edited: