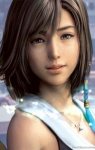 ~ ♥~ Grand Summoner~ ♥~
Joined

Jan 3, 2006
Messages

7,400
Awards

4
Location
I should've done this months ago, really. Oh well~
For a very long time, I've made lots of friends and had lots of fun here. I've left and come back, of course, although I do think this is it. I've reached a point in my life where it's not fun and games anymore, and I just don't have time for a lot of things that I used to do. I have gotten a few emails from people here every now and then, so I guess someone still remembers me. Not to be dramatic, over time this'll get buried under all the new people incoming and whatnot anyway.
So anyway, I say farewell to the one place that gave me my love for video games and established my career in Gaming for Design (going to Art Institute, haha). I met lots of wonderful people here and had a great time. If any friends still wanna keep in contact, please add my skype or email me (not that you haven't already xD), I'm glued to this computer with homework and work ;A;
Thank you KHI, and farewell!
xoxo
Evangeline
aka rpgangel & Flower