trapped in revamp hell
Staff member
Joined

Nov 1, 2009
Messages

17,764
Awards

36
In celebration of Cat Day on February 22nd, Famitsu released a short spread interviewing well-known game developers about their feline companions. Naturally, Tetsuya Nomura's cats were included. He speaks of how his cats cheered him up when he was depressed and how they inspire his work on Kingdom Hearts 3.
Translations are available thanks to Saken.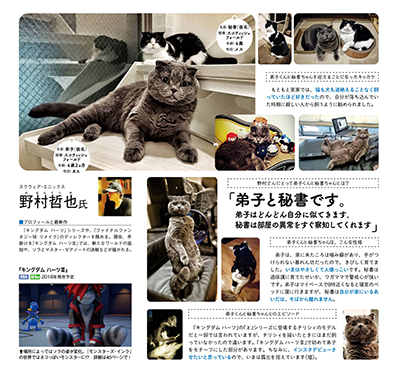 Square Enix's Tetsuya Nomura

Profile/Latest projects:
The Director of the KINGDOM HEARTS series and of FINAL FANTASY VII REMAKE. Right now, he is working on the addition of new worlds in KINGDOM HEARTS III, and also the designs for the final battle between Sora and Master Xehanort.

KINGDOM HEARTS III
PS4/XBONE Release Date: 2018 TBA
According to the world he is in, Sora's appearance will change. In the Monsters, Inc. world, he appears as a sort of cat-monster? More details on Page 40!

Tetsuya Nomura's cats:

Name: Hisho* (black and white)
Breed: Scottish Fold
Age: 4 Years
Sex: Female

Name: Deshi* (blue tabby)
Breed: Scottish Fold
Age: 4 Years 2 Months
Sex: Male

*Not their actual names (T/N Deshi means pupil, Hisho means secretary)

-The reason he got these cats:
Our family really loved cats and dogs, so we always had them in the house. For this reason, when I got a little depressed I was recommended to get cats.

-This is Deshi and Hisho.
Deshi is slowly slowly becoming like me.
Hisho is always first to pick up on anything strange going on in the room.

-Deshi-kun and Hisho-chan's personalities
When Deshi first came to the house, he was a bit of a hooligan, he had a bad habit of biting whenever you put your arm close to him. I had to be quite strict with him, but now he's a very friendly cat that loves company. As for Hisho, maybe it's because I was too overprotective of her, she's pampered and is incredibly wary. Deshi goes at his own pace, when it's midnight he'll go off to his bed and sleep, but Hisho, as long as I'm in the house, she won't leave my side.

-Episode of Deshi-kun and Hisho-chan.
Some people say that the inspiration for Chirithy's model in Kingdom Hearts X is inspired by my cats, but at the time that I designed Chirithy I didn't own them. In KINGDOM HEARTS III, however, there's a section planned which takes motif from Deshi. I'm thinking to have him interviewed about that actually, so I can't disclose any information at the moment (laughs).
Here are some additional pictures of Nomura's cats that have been shared over the years: