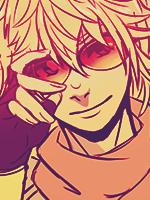 Joined

Mar 31, 2008
Messages

12,519
Awards

6
Age

31
Location
((Inspired by the song Break Free by Eyeshine and loosely based off of a real life experience. Hope y'all enjoy. Comments are welcomed, critique even more so.))
<---000--->

"Face Your Past"
​
Beep after beep, alert after alert.
His black Samsung Messenger kept on going off. The sounds of the text message alert kept on coming and coming, no doubt from her. Even as he sat at his computer desk, staring at the blank Microsoft Word Document, they kept on coming.
Each text was just an echo of the last, "why," they read. Yes indeed why. Why oh why did he do it. Somewhere down the line, it went wrong. Was it the way he felt for her? Or was it the way she was and he could never see it until that one moment he sent out that unbelievable text? Perhaps it was a mixture of the former and latter, or maybe it was neither. It was a question he could only answer. She didn't know, hence why she, despite him obviously ignoring every single text, she kept on sending them.
Each time he would read the texts, despite how much of a copy they were, he couldn't just bring himself to peer his hazelnut-colored eyes away from the little screen. The words reading "why?", imprinting itself into his mind, molding with his heartbreak and despair.
"I don't know why," he said, not like she could hear him.
The despair was rising to new levels, the beeps stopped. Was it that she had enough? No, that wasn't it. In fact, he knew something was amiss. After five or six minutes of nonstop texting, she wouldn't just stop.
Just as his suspicions came to light in his mind, his phone rang, the song of Life Starts Now by Three Days Grace playing. He looked to the Caller ID and it was her, the person who had broken up with through the means of text messaging was calling him.
He just held the phone in his hand, looking at it. That very hand that he held the phone in was shaking. His arm was shaking and soon he found his entire body shaking, tears falling from both eyes and a squinted expression appeared on his face. He was trying to stop the crying. Oh why was there so much crying?
He hesitated, but he answered. He didn't understand why he waited so long. It was stupid on his part. Moronic was more like it and he had to face the music of the least intelligent decision he made of his entire nineteen years of being alive.
Holding the phone to his ear, he heard her crying, but she started to speak.
"Why did you do it?" She asked, not wasting any time.
He didn't have any words. He stayed silent.
"You have no answer? Nothing at all," She said. Shocked.
There was a minute of mostly silence. With his breathing being heard on his end and bits of crying on hers, he would have to choose his words carefully. If he didn't, he might make things even worse than they already were.
"I don't know."
"You don't know? No reason at all? Come on Thomas, you broke up with me through a diddlying text message. Obviously you wanted to avoid SOMETHING."
Suddenly silence took over again, but not long. Three or four seconds before it broke.
"You're right. You always have been, Alexandria."
"Then speak. You always have been able to talk to me about anything. It was one of the things that was great between us: Communication."
She was right, he thought. She was right about everything and he owed it to her. Thomas owed Alex that much.
"You don't realize how hard it's been seeing you with
him
." He said, his voice emitting a petty jealousy tone.
"Who him?" She asked, genuinely confused.
"You know who. Michael." He said.
"Michael? He's just a friend. I swear." Alexandria said, trying to explain to Thomas that Michael meant nothing to her more than a friend, or was she trying to convince
herself
of that.
"Bullshit, Alex. Bullshit." Thomas said, calling Alex out on that, "you and I know that you and him are more than friends. I've seen you two around school, hugging and acting as if you two have something going on. So much for our so-called 'communication', huh?
Alexandria was going to say something. Thomas heard some sound come from her end, but she decided against it. She knew he was right. He was right about them being more than friends. He was right about them having something, even while she and Thomas were still an item to the entire school. She knew he was right about all of it and it sucked.
Alexandria stayed silent for a few minutes, sounds of her crying and cursing herself could be heard. Obscenities like "diddly" and "shit" were heard repeatedly. Thomas didn't like being right and he didn't enjoy making her cry. He was, after all, the one who broke up with her. Still, she was the one who made him do this. If they would have just communicated better, maybe -- just maybe -- they would've found some way to work through it. Maybe if he saw the way Michael looked at them when they would pass him in the hallway or how he looked at her when he was right in front of them at lunch, then perhaps Thomas could have prevented this.
"I guess I'll see you at school then.." Thomas said, ending the five minute silence.
"I guess so," She echoed him.
In a matter of seconds, the call ended. The dial tone was like a heart monitor hooked up to a patient at a hospital.
Shutting the power of his phone off, Thomas hurled it to the wall, the battery and the back of the phone breaking off. Yelling as loud as he could, Thomas busted into tears. A mixture of sadness and anger took him over. If there was ever a time that this man was completely broken, it would be now.