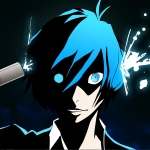 Once more 'round the room we waltz.
Joined

Nov 29, 2004
Messages

5,623
Location
BrightEyes said:

xD that's kind of hilarious about your grandma...
it sounds like your eyes are really awesome. i'd love to have mood-expressing eyes...

my eyes are green, but a little on the grayer side. Most people think they're grey, but they're really green. In bright light its easier to see, and then they appear really vividly green. i really like my eye color though, and i can't imagine changing them. i like lighter colored eyes, and i tend not to like dark brown eyes (no offense to anyone who's said they have brown eyes...) and i really love eyes that are multi-hued, with dashes of blue/green/hazel, etc.
Green-gray eyes are really interesting to look at, more so than Blue-gray.
If there was one person I was jealous of as far as eye color, it'd be my girlfriend. Her eyes are purple. Technically, it's just an extremely violet shade of Blue (because true purple eye color is impossible), but any day of the week, her eyes look purple. I get so pissed off because she usually wins things at Anime-Cons for Cosplaying with those things. >.>