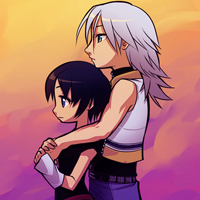 Joined

Jan 31, 2008
Messages

16,306
Awards

5
Age

36
Location
Website
Zexion can smell if someone is a nobody or not.

Xion would have to be a nobody to be accepted into the Org.
Not with the cloak on, which is why DiZ gave those to Mickey and Riku in CoM. The Cloak hides their scent of existence, thus the Organization can't track them down. Should Xemnas be the one scheming, he could introduce her into the Organization and have her never take off the coat, thus leaving the rest of the Organization - including Zexion - clueless as to whether or not she's a Nobody.
Then there's the option no one truly dared to defy Xemnas about it despite her being a Nobody - which is also an option, and her wielding a Keyblade (even if it's fake) would've made people accept her regardless, seeing how it would've served their goal, so what did they care?
To top it all, Zexion was sent to CO and then died there, so he wasn't that much of a long-term threat.