trapped in revamp hell
Staff member
Joined

Nov 1, 2009
Messages

17,762
Awards

36
 -INTRODUCTION-
First revealed at Tokyo Game Show 2012, KINGDOM HEARTS χ[chi] is a free-to-play PC browser social game taking place during the legendary Keyblade War, throwing players into the onslaught of the battle for Kingdom Hearts. Aligned with one of 5 factions, it's up to you to gather as much light as possible to vanquish the darkness and claim your destiny. Or so they say...
-STORY-
"Far, far away, in a fairy-tale realm...
The realm was filled with light.
That light gave birth to many worlds, enveloping them.
The source of the light, Kingdom Hearts, and the key that protected it, the χblade...
As long as they existed, it was believed that the realm would be in eternal light.
However, just as strong light will form a shadow, darkness was born.
The darkness called up fear, unease and craving.
Darkness, hidden deep in hearts, began to spread throughout the realm as chaos.
In order to drive back the spreading darkness, those who wished for light created Keyblades in imitation of the χblade, and embarked on adventures that spanned the realm."
In truth, Kingdom Hearts χ[chi] doesn't actually take place during the true Keyblade War. Introduced as a fairytale, the game borrows themes and settings from the established universe and bears no relevance to the main storyline. Think of it like a bedtime story your parents would tell you when you were younger, where they replaced all the characters and locales with names and places familiar to you in order to make it memorable.
-WORLDS-
In KHx, the player will travel throughout various Disney worlds, providing aid to familiar characters whilst ontheir journey. Currently, a total of four worlds have been revealed, no doubt with further additions to the lineup in the near future. The redesigns of each area breathe new life into the worlds unlike that which we've already seen in previous titles. 
Central Hub - It appears to resemble Radiant Garden, the city of light. Here, you'll be able to rest easy during your journey and rendevous with other members of your team. 
Dwarf Woodlands - Home of the seven dwarves. Doc has been separated from his companions. Heigh-ho, heigh-ho, it's off to find the other dwarves we go!
Agrabah - A palace city surrounded by a vast desert. Aladdin was found passed out in the sand after being attacked by Heartless. Let's check out his home town and discover what mysteries lie within. From the bustling bazaar to all the nooks and crannies within the dark alleys, there are many secrets waiting to be discovered.
Wonderland - A wondrous land full of strange happenings. We arrived here after falling down a rabbit hole. It looks like the only way to go is through this tiny door. Topsy-turvy, spinning round and round, how will you keep your head on amidst this madness and insanity? 
-CHARACTERS-
This time around, you, the player, will be the main protagonist. Choose your favorites from custom styles and designs created specially for Kingdom Hearts χ[chi] to determine your avatar's hair, face, skin tone, and outfit, bringing to life a character you're proud of. In a world where Keyblade wielders run rampant throughout the worlds with man-made Keyblades, be sure that yours will stand out among all the others!
As revealed in the gameplay trailer, a new character named "Chirishii" has appeared! Chirishii will help you out throughout your travels and ask you to visit certain worlds for him in your battle against the darkness.
-GAMEPLAY-
Cards are arguably one of the most well-known taboos within the Kingdom Hearts community. Although the card-based system from Chain of Memories was intuitive and strategic, many players found difficulty and frustration at the reliance on values and sleights. It's no surprise that when KHx was unveiled and the the word "card" came up through the impressions, the first move taken was almost an automatic step back in caution. That, however, isn't necessary.
How to Play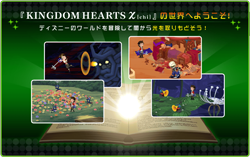 As per the series norm, Kingdom Hearts χ[chi] tasks the player with traversing through various Disney worlds and defeating Heartless. Upon starting the game, players are able to choose one of five factions (Anguis, Ursus, Leopardus, Vulpes, Unicornis) to fight for in the battle for the Light, otherwise known as "Lux." Lux can be obtained by defeating Heartless that you encounter throughout your journey, and taking down a Raid Boss will net you a tremendous amount, giving your team a significant advantage.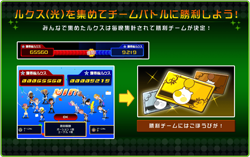 Every night, the Lux will be tallied in order to determine the winning team, who will receive a great reward, including Moogle Room tickets to exchange for powerful card packs. Give it your all, and don't let your teammates down!
Worlds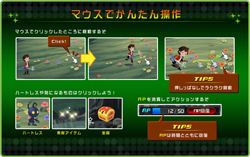 The player is controlled via the mouse. You can also hold down the left mouse button to direct your avatar torwards its destination, or just select the location and your avatar will dash towards it. You can also select various objects and enemies to obtain items, open chests and initiate combat. Health wil recover automatically after each battle.
While the game is free to play on PC browsers, players will also have the option to purchase additional bonus items, like those that can be found through treasure chests, to use in-game. These include potions, which recover AP, and ethers, which recover BP, although you can simply wait for these points to recharge on their own.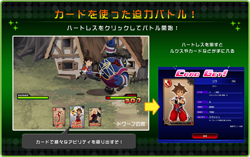 Performing actions in the world will cost a preset amount of AP, or "Attack Points", which will regenerate over time. The cost of each action varies depending on the target. Attacking smaller enemies, such as Shadows, as well as collecting materials lying around on the ground will cost less than opening treasure chests and striking down larger Heartless. It's worth noting that enemies will not attack you unless you make the first move. Enemies not only give out Lux upon defeat, but also experience for leveling up, munny, cards as well as materials to strengthen your Keyblade.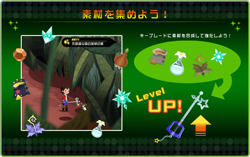 Leveling up will replenish your health, AP and BP, as well as grant new objectives for you to accomplish whilst on your journey, such as defeating X number of Heartless or collecting X materials. You'll receive a wide range of prizes from potions and ethers that restock your points, to Moogle Shop tickets to exchange for high level card packs.
Card Synthesis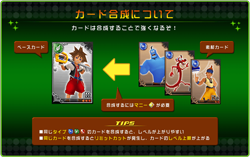 Now, here comes everyone's favorite tools of the trade, the cards. Cards can be acquired through various means such as defeating Heartless, searching in treasure chests, and exchanging tickets in the Moogle Shop. Then, by selecting a base card, you can fuse others to it to increase its strength. Of course doing so will also require a small munny fee; nothing too extreme for the strong Keyblade wielders such as yourself. 
There are no restrictions with what cards you can fuse together. Synthesizing those of the same type (such as blue for Magic, as depicted in the image) will allow the corresponding levels to rise quickly. Doing so with multiples of the same card will raise the card's overall level at an significant rate. 
Deck Formation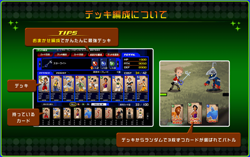 The player can construct a small deck to use in battle, which can be built easily either manually or by using the "Auto-form" option. Every turn in battle, three cards from your deck will be available for use, similar to that of the sleights from Chain of Memories. However,  these three will be randomly chosen; you will not have the option to select them beforehand, and the rate at which a battle progresses becomes unpredictable.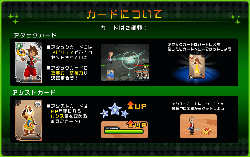 Overall, decks are comprised of two types of cards: Attack and Assist. Attack cards are assigned only one ability and set at a fixed level of attack and defense; these can be obtained in battle and through the Moogle Shop. Assist cards are crucial to determine the rewards you will receive in battle and can be found via treasure chests.
Keyblade Strengthening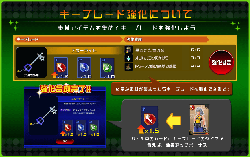 Throughout the course of your adventure, you'll collect various materials and components that you can use in order to strengthen your Keyblade. A higher quantity and variety will be required with each upgrade and Keyblade, so be sure to collect as many as you can find! As depicted in the image, if your card and Keyblade type matches, the effects will be increased accordingly.
Additionally, the default Keyblade you begin the game with is called "Starlight" (depicted in the image above).
Team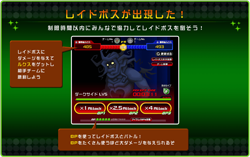 The Raid Bosses mentioned earlier are the highlights of the game. These tremendous Darkside Heartless spawn every so often at a random level in the central hub, and you and your team must work together to defeat it as quickly as possible before time runs out, all the while making sure that your collective damage output exceeds that of the competing team. Time your attacks wisely and check back often to ensure that your team maintains control of the battle.
However, you will not be able to launch attack after attack against it. In order to even receive the opportunity to battle the Raid Boss, you will need BP, or "Battle Points." If you sacrifice more BP, your attacks will be more powerful. BP will recharge over time so you will receive more opportunities in the future, but spend your points wisely.
-GRAPHICS-
Not to be confused with Monster Octopus' original Kingdom Hearts Mobile style, used thereafter in Final Fantasy Airborne Brigade and Theatrhythm Final Fantasy, Success Inc.'s unique KINGDOM HEARTS χ[chi] style stay true to the design from the main series. 
-STAFF-
Director: Tetsuya Nomura
Co-Director: Tatsuya Kando
Developed by: Success Inc.
-NEWS-
Open Beta Launches + New Screenshots/Cards - July 08 2013
Gameplay Trailer + Open Beta Announcement - July 04 2013

Famitsu Weekly - 5 Competing Factions - March 27 2013

Closed Beta Test Invites + Official Site Update: "Game coming soon!" - March 19 2013

Co-Director Tatsuya Kando Interview on Square Enix Channel - March 13 2013

Famitsu Weekly - Launch date has been set, players can choose their own factions, new screenshots - March 13 2013

New Screenshots from 4Gamer - Closed Beta test Announcement - March 12 2013

Officially revealed as KINGDOM HEARTS χ[chi] + HD 1.5 ReMIX in-game preorder bonus - February 19 2013

Debut Screenshots from Famitsu Weekly - October 03 2013

First Glimpse - Trailer Impressions at Tokyo Game Show 2013 - September 19 2012
-VIDEOS-
-INTERVIEW ARCHIVE-
Famitsu Weekly w/ Tetsuya Nomura (HD 1.5 ReMIX, HD 2.5 ReMIX, χ[chi]) - October 04 2012

Dengeki Playstation w/ Tetsuya Nomura (HD 1.5 ReMIX, HD 2.5 ReMIX, χ[chi], The World Ends With You Solo Remix, Lightning Returns FINAL FANTASY XIII)- October 19 2012

Square Enix Channel w/ Tatsuya Kando (HD 1.5 ReMIX, χ[chi]) - March 13 2013

-EXTERNAL LINKS-