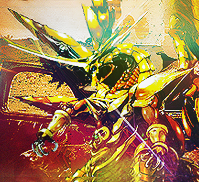 doWnloAd ProgoNOSKES 99% cOMplETeD
Joined

May 10, 2006
Messages

11,535
Awards

8
Location
Website
We've all been traveling for a long time haven't we?? Trying to escape the Tyrant and make sure his goons don't kill us, or worse bring us back to HIM.

It seems like many years have passed at this point and we all have just gotten stronger at every turn. I believe in the evolution of us humans as a species but living in this world has restricted our very nature. In these past several months we've seen a drastic increase in our abilities than ever before. I know it means something. I can feel it deep inside that we can stand and fight, take back our world that has been stolen from us!!!

If we are to get to this goal we'll have to condition ourselves much further. That is why I've called you two here. Let us realize our true potential!!! A match between the three of us could be fun...
EWS and KSX this should amuse you a bit. I'm sure you understand the purpose of this challenge...
Location
<-----click
A city recently ravaged by the drones unleashed upon its inhabitants for harboring the defected.
Rules: You already understand these.
Post your appropriate character when ready. Here's mine.
Last edited: