trapped in revamp hell
Staff member
Joined

Nov 1, 2009
Messages

17,764
Awards

36
E3 has come and gone, and with it all doubt in the existence of the illustrious third numbered installment in the KINGDOM HEARTS series has faded away. It's impossible to say that any of us believed KINGDOM HEARTS III would arrive, especially on such short notice. Still, we held onto that small glimmer of hope, and we were certainly not disappointed. There was a lot to take in in not a lot of time, so we invite you to join us as we recap the highlights of the 2013 Electronic Entertainment Expo!
-TRAILERS-
We had heard from Director Tetsuya Nomura in the latest Square Enix mdRadio episode that he would be attending E3 2013 because "certain information would be announced". As you may know, it is such a rare occasion for him to make a public appearance, so naturally the community stood up on high alert. And we were proven to be rightly paranoid, as a trailer for Kingdom Hearts 3 burst out during the Sony Conference, revealing the long-awaited title to finally be in development and eleasing for the Playstation 4!
The Kingdom Hearts -HD 1.5 ReMIX- trailer didn't quite have the same element of surprise, having been leaked prematurely a week befor the expo. The official release brought about all the nostalgic memories long forgotten and a newfound desire to experience these adventures all over again.
-FUTURE OF FINAL FANTASY EVENT-
With such a dramatic reveal, it'd be difficult to top with another surprise announcement. As usual, Square Enix didn't disappoint. Despite what the name suggested, once we saw the faces of Sora, Donald and Goofy standing proudly alongside the Final Fantasy protagonists, we knew we could surely expect more information at the Future of Final Fantasy event. Here, the game was revealed as the first in the series to go multi-platform with the announcement of a Xbox One release!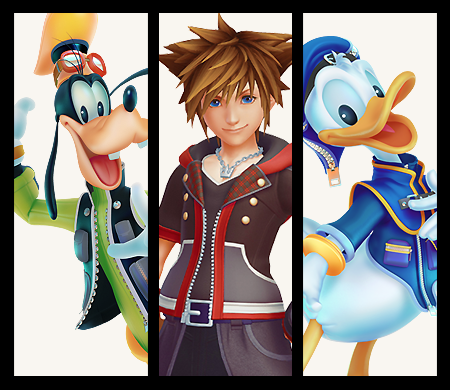 System - Playstation 4 / Xbox One
Currently in Development

"Believing light and darkness must remain in balance, Master Xehanort seeks to spark war against the tyranny of light to restore equilibrium. In an effort to undermine Xehanort's plot, Sora, Donald and Goofy search for seven guardians of light and the Key to Return Hearts, while King Mickey and Riku search for previous Keyblade wielders. KINGDOM HEARTS III features a mature Sora as the main protagonist who sets forth on an adventure with Mickey, Donald and Goofy through new and legendary Disney worlds. KINGDOM HEARTS III will make full use of next generation console technologies to showcase a stunning universe packed full of worlds based on Disney properties."

~♥~

KEY POINTS:

Sora will be more mature
Donald, Goofy and Mickey will be featured
Brand new Disney worlds
Osaka Team (Birth by Sleep, Re:Chain of Memories, Re:coded, Dream Drop Distance, HD 1.5 ReMIX) will be developing KINGDOM HEARTS III
No plans to release other KINGDOM HEARTS games on an Xbox platform
-INTERVIEWS-
Over the course of the expo, Directly Tetsuya Nomura conducted a total of 6 interviews of or relating to Kingdom Hearts 3 and Final Fantasy XV, 4 of which pertain to the Kingdom Hearts series. It's a huge task to search for and filter through each one for specific details, so we've compiled all the important facts about KH3 and HD 1.5 ReMIX below for you to read as you please!
[Square Enix Presents] | [Square Enix Channel] | [Famitsu] | [Dengeki]
Kingdom Hearts series:
When asked once again about his favorite character in the series, Nomura replied this time with the various incarnations of Xehanort, specifically Ansem Seeker of Darkness.
Nomura despairs over the fate of the Jungle Book world, which they've attempted to include in many titles and had to cut every time.

Kingdom Hearts III:
Nomura hasn't realized it's been so long since KINGDOM HEARTS II, and feels pressure to release KINGDOM HEARTS III as soon as possible. 
Even though it's taken far too long, the announcement for KH3 seems to have been made too early.
"A numbered title" as he describes, is one where Sora is the main character and is aided by Donald and Goofy.
They chose to tell stories outside of the numbered titles as there hasn't been anything that perfectly fit KH3.
The gameplay will be evolved through KINGDOM HEARTS II, with many elements from the handheld games, Dream Drop Distance in particular. If you want to know what to expect in KH3, you should play KH3D!
The HD remasters and KINGDOM HEARTS III go hand in hand. The announcement will bring many old players back to the series, and they can use the remasters to catch up on everything they've missed. 
KINGDOM HEARTS III is being developed on PC and then specially adjusted for each console, to make porting as simple and convenient as possible.
They are currently thinking of ways to make Kingdom Hearts 3 more accessible and easy to understand to returning and new players.
He tells us to look forward to the world reveals for KINGDOM HEARTS III, saying they will definitely surprise us.
A new outfit for Sora is currently in the works.
Next-generation hardware offers up many possibilties to incorporate multiplayer, but at this moment nothing has been set in stone.
They are investigating various online elements to incorporate.
Summoning will undergo a significant change in comparison to previous titles.
We can expect to see the new Organization XIII returning with Master Xehanort at the helm, and that Nobodies will still be present in the future. 
More Final Fantasy characters will be included in KH3.
Playable characters other than Sora are being considered, but he is the definite main this time around.
The true Kingdom Hearts, heart of all worlds, may actually appear this time!
Special shaders, affectionately named the "Kingdom Shader", will be applied in each and every world to allow for a seamless experience. In previous titles, visiting characters stood quite out of place, and the Kingdom Shader will allow them to match the art style of each world beautifully.
The gameplay in the trailer is a pre-rendered FMV, but Nomura feels that the real-time gameplay doesn't differ all too much from what they've shown.
The traditional 3-man-party will be used in KH3, though this time NPCs will sometimes fight alongside you.
They'd like to enable seamless gameplay with enemies and allies, and offer options such as riding on vehicle-type enemies.
Luminous Studios is being used as the primary engine.
The usage of DirectX 11 allows KINGDOM HEARTS III to be developed without a specific console in mind.
Expect more information at the Tokyo Game Show and the D23 Expo in Tokyo Disneyland.

Kingdom Hearts -HD 1.5 ReMIX-:
Because it had been so long, almost all of the original data of KINGDOM HEARTS for the PS2 was lost, leading to many assets being remade completely from scratch.
They couldn't just release the Final Mixes on their own at this point in time, and decided to bundle them up with several other titles in a collection.
Nomura didn't intend on the Days movie being so long. As they progressed through development, it grew to such a monstrous length that he feels they should have just made a proper film from the very beginning.