Despite not being a well received addition to the Kingdom Hearts gameplay, the Drop Gauge is staying in the HD re-release of Kingdom Hearts Dream Drop Distance HD. Today, the Japanese Kingdom Hearts HD II.8 Final Chapter Prologue website updated with new screenshots, which you can view here, as well as some new information about the gameplay of Dream Drop Distance.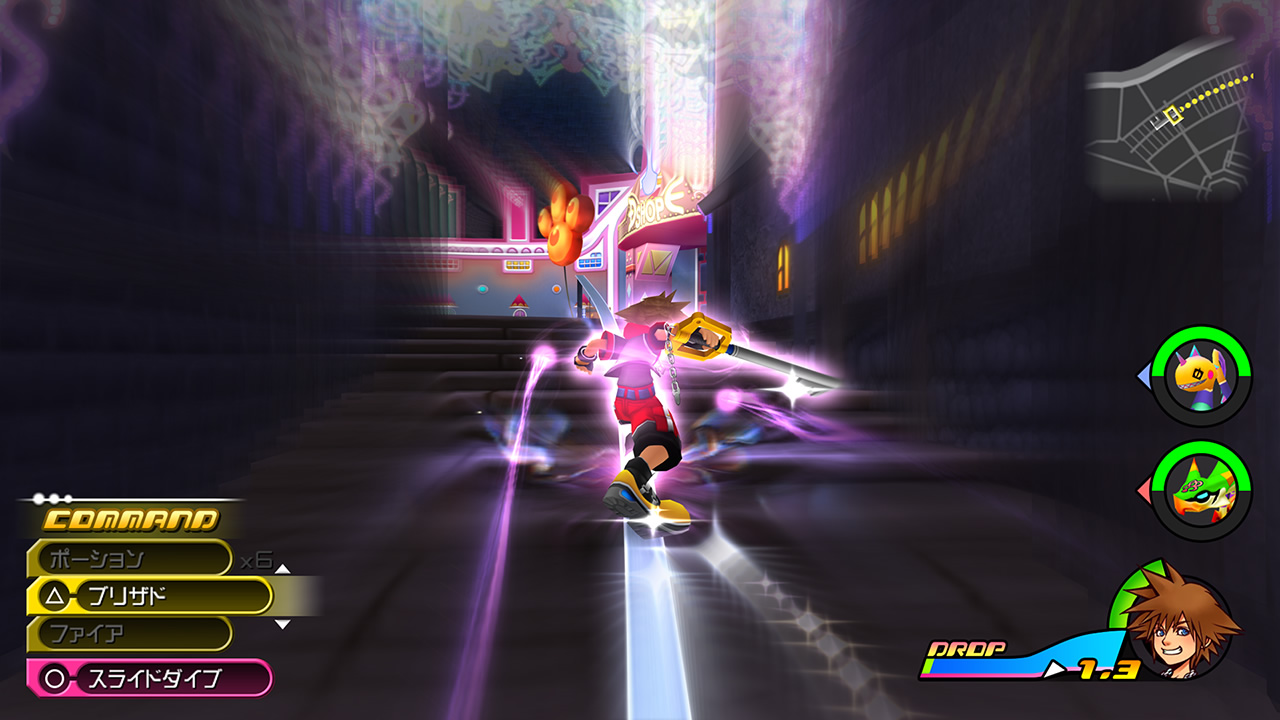 Previously, the Drop limit in 3D Dream Drop Distance was capped at around 10 minutes, and could be slowed down through items and/or spending Drop Points (accumulated from defeating Dream Eaters and spending them when swapping between Sora and Riku), or increased in bad weather and/or status effects. Now, in the re-release, the Drop gauge will deplete after 20 minutes, allowing you extra time to explore the worlds as Sora and Riku.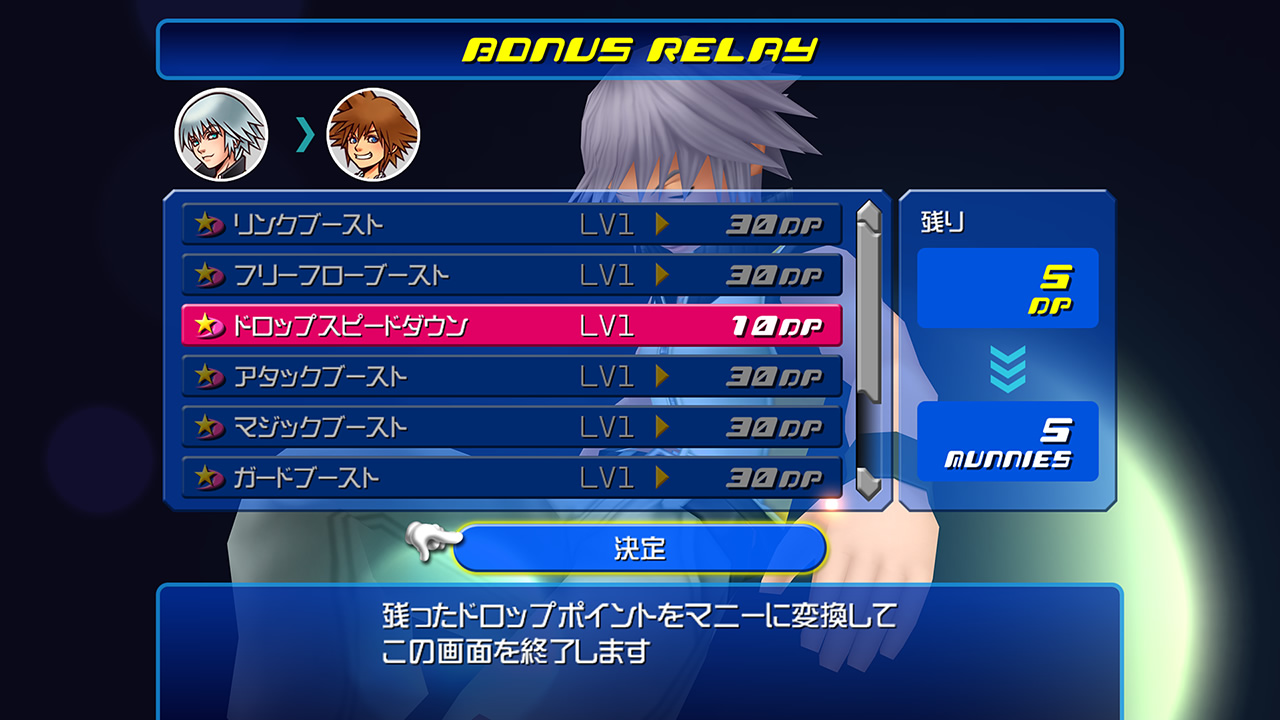 In Kingdom Hearts 0.2 Birth by Sleep -A Fragmentary Passage-, objectives have been added to add extra challenge to the game. Completing these challenges rewards the player with material and other customisable items.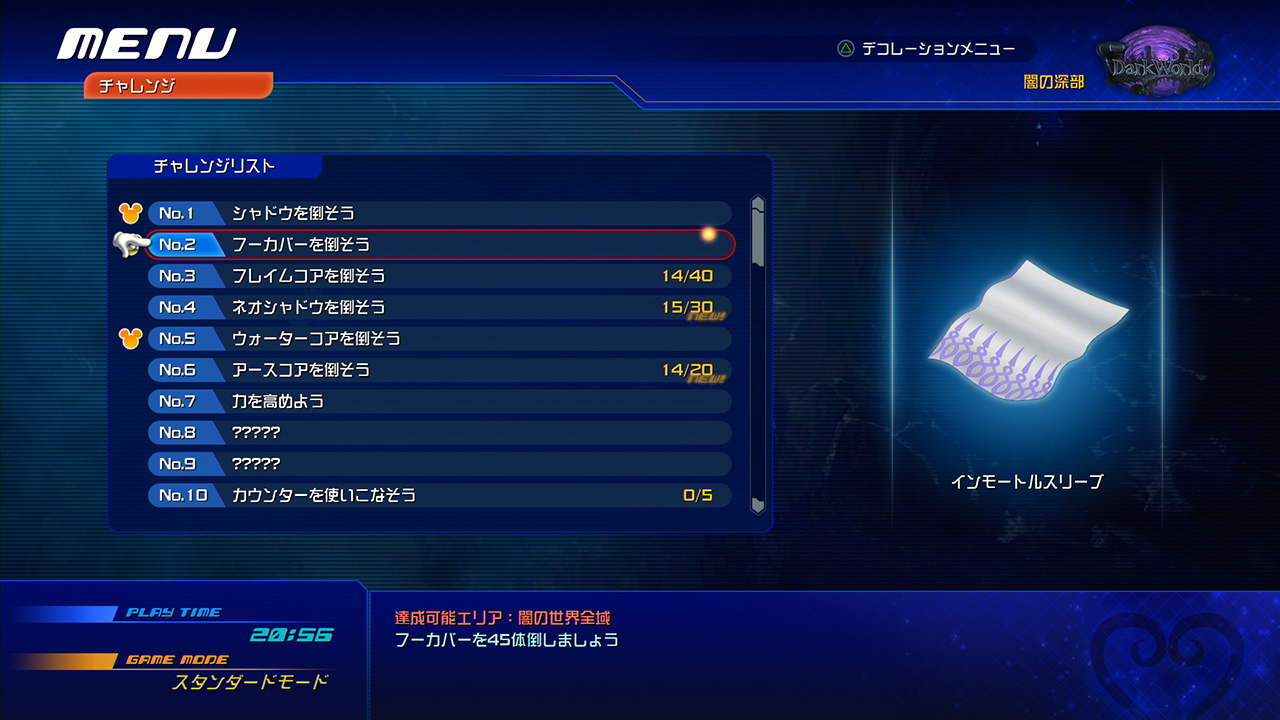 The screenshot above includes a few of the objectives that will reward Aqua with the customisable items. The objectives are as follows:



No.1 Defeat Shadows




No.2 Defeat フーカバー (name not yet translated)




No.3 Defeat Flame Cores (14/40)




No.4 Defeat Neoshadows (15/30)




No.5 Defeat Water Cores




No.6 Defeat Earth Cores (14/20)




No.7 Increase Strength




No.8 ?????




No.9 ?????




No.10 Use Counter (0/5)
As this is the start of the list, more challenging and difficult objectives should follow, providing hours of extra content.
Translations thanks to Saken and Zephyr.