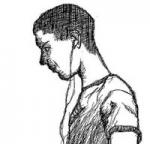 Joined

Apr 21, 2005
Messages

3,777
Age

35
Welcome to my DBZ fantasy, Dragonball Zero. It takes place several years after GT, and the main characters are Pan, Goten and Trunks...along with a few of my own
Any suggestions or comments would be great.
A shockwave of energy lanced forth as forearm hit forearm, and fist glanced over fist. An arm withdrew, falling backward, only to send itself rocketing fowards again with tremendous speed, coming to a premature halt when a pair of powerful forearms crossed in front of an orange-clad chest, blocking the blow. A booted foot swung up, and came to rest in the palm of two hands which twisted, sending the orange-clad figure into a sideways spin involuntarily. Lancing a second foot out, he caught his captor in the chin, landing on hands and knees.
Twisting wildly in mid-air, the second figure brought his momentum to a halt, his grey hair flailing wildy around his face, blocking his vision...still, he didn't need eyes to know what his opponent was doing. The two had known one another for long enough that they could anticipate each other's moves, and the grey-haired man knew that this next one was going to hurt.
The orange-clad figure spun, bringing himself to his feet, and drew his hands back to his side, one over the other, as his voice rose in a battle-cry.
"Ka!"
A blue flash issued forth from his palms, taking on an orblike shape, a torrent of contained energy, growing by the second.
"Mae!"
Bringing his hands back further, the black haired, orange clad figure allowed the power in his palms to swell even further, putting more energy into the attack.
"Ha!"
The grey-haired figure lept to his feet suddenly, spinning about to deliver a kick towards his opponent's midsection. Leaning back, the orange-clad figure dodged the attack.
"Mae!"
The grey haired figure landed, twisting his upper body and crossing his hands, dashing foward to meet the attack.
"Haaaaaa!" screamed the black-haired figure, thrusting his hands foward and allowing the torrent of energy to be released, point-blank, into his opponent. The energy wave swept around the grey-haired figure like a river unleashed, burning against his bare forearms, singing the cloth of his clothes. Slowly, the wave slowed and subsided, and the grey-clad figure collapsed to the ground, landing on one knee, and panting, spent. He knew that across the field, his opponent had done the same.
"I...expected a little more...from the Prince of all Saiyans..." panted the orange clad figure, looking into his enemy's eyes.
"Hey...you arn't that great...yourself..." replied the grey-haired figure, glancing up to meet the glare of his sparring partner: "...Goten."
"Hey!" A youthful, female voice shouted: "You two! Get up, we need to get ready!"
The voice belonged to a second orange-clad figure, this one female. She wore the martial-arts uniform well, having altered it to fit her liking. The bright orange two-piece was held together by a purple belt that was tied above her waist, just under her breast. She wore thin leather boots, similar to the ones worn by the two sparring, and long black hair cascaded down her back.
"Pan! We're training!" protested Goten, climbing to his feet before helping Trunks up. The two were both the same age, and similar in height and weight. Goten wore the same martial arts uniform as Pan, though in perhaps a more masculine manner, and Trunks wore a grey coat and cloth pants over a blue tank-top of the same material as Saiyan battle cloth. In fact, were it not for his protruding lower abdoman, Trunks could have been wearing the same blue lightweight clothes once favoured by his father, underneath his own.
"Fine..." Pan said nonchalently, turning away: "But I'll let you two explain that to Chi Chi..."
Instantly, the boys were both beside her, demanding to know what they could do to help.
"I can't believe it's been twenty years!" exclaimed Goku, running a hand through his now-grey hair. "I thought after the disasters at the previous tournaments, and Vegeta blowing up half the stadium, they'd decided to stop holding tournaments!"
"Well, maybe they figured that with you two out of action, it'd be safe to hold one again!" laughed a dark-haired woman, Goku's wife, Chi Chi, who's notable beauty, and distinctly more notable temper, had somehow survived the years unweathered.
"What do you mean, out of action?" demanded a condescending voice from across the room, belonging to a second grey-haired man: "I still train every day, and so does Kaka..."
Vegeta was inturrepted by a sharp pain in his thigh, caused by Goku's boot, and he hesitantly finished his sentence: "...Ka...Ka...Kakoro...you remember, that Namekian boy living with Dende?"
"Nakoro, sweetie." chimed in Bulma from across the room, sitting on a windowsill. Bulma had never quite gotten used to the idea of 'growing old', and still dressed as if she were twenty, yet somehow managed to pull it off. Neither had her bubbly personality died down.
Behind them, the door burst open, and Goten dashed upstairs, almost hitting Gohan, who was coming down. With a shouted apology, he continued, as Pan and Trunks stared after him from the doorway.
"So, Kakarot, you think the squirt will actually win?" Vegeta asked, staring after the young half-Saiyan. The reaction from across the room was almost a tangible force:
"WHAT?" Screamed Chi Chi, dropping the plate she'd been bringing out from the kitchen, grabbing Goku by the collar: "You said we were only going there to WATCH! You said nobody would be competing!"
Grinning, Vegeta excused himself, Chi Chi's screams following him out the door.
"Ladies and Gentlemen, welcome, to the first annual revised World Martial Arts tournament! We have an excellent array of fighters gathered today, from…"
The announcer's voice droned on, listing the well-known fighters who had enrolled for the tournament, whilst Goku, Vegeta, Chi Chi, Bulma, Gohan and Videl sat in the stands. Goten, Trunks and Pan had all signed up, against the loudly expressed opinions of Chi Chi.
"Wow…there's a fair few here, isn't there?" Goku remarked, as a tall man dropped into the seat behind him, clapping him on the shoulder.
"Damn right you are, old man! And with my granddaughter competing, the numbers will soon be cut down!" boomed Hercule, otherwise known as World Champion: Mr Satan. Goku almost fell out of his chair when he saw who was behind him, but promptly regained his balance and greeted his 'brother-in-law' just as enthusiastically.
Meanwhile, Trunks, Pan and Goten were studying the tournament line-up.
"Man…I'm up against some 'Cumulus' guy first!" groaned Goten, moving aside to allow his friends to get a better look: Indeed, Goten had drawn first match against a competitor known as 'Cumulus Trouble'. Pan was matched up against a fighter from a foreign country, whom she thought she'd spotted before the match, a handsome young man with deeply tanned skin and pearly-white teeth. It'd be a pity messing up his face, she thought.
To Trunk's surprise, he was matched up against someone with a somewhat familiar name: Marron. He'd spotted Krillian and Number 18 here earlier, but had assumed they were here only to watch. Krillian, slightly looking the worse for wear due to his age, had succeeded Master Roshi and inherited the Kame school of Martial Arts from his old master, along with the island, house, and an inordinate number of lingerie magazines, which his wife had promptly disposed of. 18, on the other hand, still looked as young as ever: Being an android, she was exempt from the effects of time to a degree. She had at one stage started dying her hair grey, but Krillian had insisted that she should be proud of her lax aging.
The gong rang out to signify the start of the first match, and Goten waved to his friends as he dashed off to his battle.
The other competitor was already in the ring by the time Goten dashed out, ignoring the announcer and judges and simply skidding to a halt in the ring, across from his opponent. At first glance, the young man thought he was looking at a super saiyan: The man across from him had long, spiky blonde hair, though the lack of an aura revealed that this unique hairstyle was the result of a clumsy hairdresser rather then a huge release of power. The enemy wore skintight blue clothes, and wielded a large sword, as close-range weapons had been allowed in the revised rules of the tournament.
The announcer shouted their names to the crowd as the two squared off, looking each other up and down. Goten caught something about him having been in the army at some stage…he wasn't really listening to the introductions.
The gong sounded again, and in the blink of an eye, both competitors were gone. The enemy's large sword slammed into the ground where Goten had been seconds ago, and a flicker of psuedomotion appeared behind the surprised swordsman.
Goten's leg swept out of nowhere, catching the legs of the fighter, and a second kick with the same leg punted him across the ring, leaving the sword by Goten's side. Cumulus arrested his motion by digging his heels in, and came to a stop mere inches from the edge of the white stone platform, knowing full well if he touched the ground outside the arena, he'd be discounted from the fight. Adjusting his stance, he dashed forwards at his opponent…who disappeared, reappearing a second later and delivering a swift kick to the midsection that blasted Cumulus out of the ring and into the stands, causing a panic among the crowd.
"Ring out!" the announcer shouted, pointing at Cumulus, who found himself sitting in the lap of a surprised young woman in the crowd: "The winner: Goten!"
Last edited: