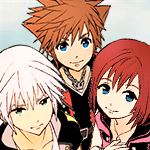 Joined

Dec 5, 2009
Messages

1,664
Awards

0
Location
Yeah while the narrative of KH makes it seem like eventually all worlds will be one, I can't see that happening as long as Disney can't even allow Elsa to meet Rapunzel and see another world.
On the Topic of retelling vs Original i think the mix they had with KH1 was probably ideal, like they took elements form the original story but rejiggled it to have Sora and Co. more Involved.
For example Arial wanting to go to the surface, became Arial wanting to see other worlds making her and Sora more rentable to each other, Sora was also a part of Ursulas Manipulation of Arial.
Otherwise I prefer original sequel stuff, though that usually would come at the cost of not fitting the villain in.
Actually...the theory of a multiverse DOES seem plausible. 3 different Londons seem really possible now, due to it. It's been touched upon in DDD's Traverse Town & Toy Box, so it's not totally out of the question. Most likely
I didn't mean it in the sense of there being multiple versions of one world a la the newly introduced Timelines, but more as in each world is it's own dimension or universe.
However KH seems to have stayed intentionally vague as to what the other worlds are.
With the introduction of Toy Box and it not only having a glob, but also FF characters and Mickey Mouse as merch I have a hard time thinking of it all as anything but a type of Multiverse were things from one world might effect or echo into other worlds in some way or form.