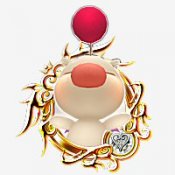 We are Moogle! Hear us...kupo?
Joined

Oct 5, 2009
Messages

8,349
Awards

17
Location
coughcoughwhatpartofnomurahadwantedtoremakedaysdidyoumisscoughcough

KH3D could easily be reprogrammed and remastered for the PS3, but that isn't the problem. All of the models are updated and textures are already high quality for a 3DS game. The problem is that it is a new game that just came out on a system that is only a year old. There is no need to port because it is so new.
I didn't miss any of what Nomura said thank you very much
I was referring to what Cosmic+Amarna said about KH3D not being likely because it is KH
3D
. Obviously KH3D could be remade for PS3, pretty much any game can be remade for PS3 (KH game at least). I have also stated in the past that KH3D being remade in 2.5 is unlikely for the exact reason you stated (it being so new still when 2.5 probably will come out).
BTW, you might want some cough drops, it seems you have a terribly nasty cough that makes you slur your words together and makes it extremely difficult to read. If not that, you might want to proofread before you post lol ;D
Last edited: