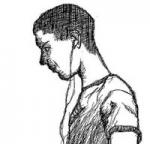 Joined

Apr 21, 2005
Messages

3,777
Age

34
I've just discovered something about myself. See, for years, I've been diagnosed by doctors as having androgenous depression. However, in the last week, I stumbled upon something that means that I never had depression in the first place. Potentially, however, it's much worse.

A documentry I saw led me to start reading up on certain disorders. Upon browsing over a certain one, I started to notice a lot of similarities between the traits of the disorder and myself. Looking for more information, I quickly realised that I have 90% of the traits of this disorder. It's called dissocial personality disorder. Most of you probably havn't heard of that, but there's a more common name for it you probably have heard of.

Psychopathy.

Narcassism, inflated sense of self, removal from the social order, antisocial tendancies, manipulation, ability to fake emotions and/or lie easily, lack of certain emotions, lack of empathy or remorse, willingness to do whatever necessary to fulfil a want, regardless of the effect doing so may have on others, tendancy to use others to gain wants, parasetic lifestyle to those residing with, inability to determine emotion from certain expressions or body language, easily bored, inability to deal with boredom, reliance on external stimulus for entertainment, predisposition to substance abuse due to tendancy to seek sensation... all traits that I have. In fact, the only ones I don't are heightened agression: I'm easily angered, but never aggressive, because I'm too rational and calculating to start physical fights, and sexual promiscurity: I find most girls to be too braindead and moronic, so I'd rather make fun of the mall-crawling airheads then sleep with them.

Just reading up on this, I suddenly understand things about myself, things I do without knowing why, that I never could comprehend beforehand. Everything that confused me about me makes perfect sense with this new information.

So, I'm 99% certain that I fall into this catagory, a catagory only 1% of the world's population share with me, the larger part of which are criminals.

The problem is, now I know, I don't know what to do from here. I don't want to speak to a doctor about it. They'd put me on some drug that would change who I am. I've had enough of thought process altering medication after the antidepressants drained away my creativity for some time.

I can't speak to friends or family about it. Either they wouldn't understand it, and would think I was telling them I'm a serial killer, or they'd understand it... the worse scenario. Who wants to be around someone if you're not sure if they're happy, or they're pretending to be happy to get something from you?

So, there's only two things I can do, really. Hide it, and let it eat away at me from inside, but never, ever, tell anyone, or try to forget I ever found out. Which I know right now will be impossible. It's not easy to forget an epiphany.

Even worse. I don't know if I even truly love the people I think I love, or if I just tell myself it's love, and subconciously want things from them. I don't know how real any of my emotional connections are. And I don't know how to find out. It's like a colourblind person deciding if the colours they see are the same as what others see. I call that truck red, and you say it's red, but is the red I see the same red you see?
Last edited: