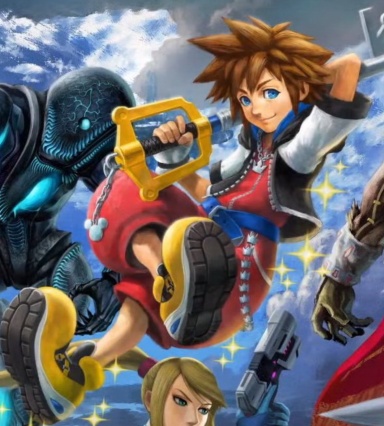 Joined

Nov 8, 2017
Messages

597
Neku's Dissidia quotes
Vs. Warrior of Light: Shut up about light so we can get this on.
Vs. Garland: Wait, shouldn't you and Chaos be the same?....Never mind.
Vs. Firion: Flowers, huh...?
Vs. Emperor: You remind WAY too much of Sho.
Vs. OK: Sorry, no tears coming out of MY eyes.
Vs. Cloud of Darkness: Wonder what happens when I shine a flashlight in her eye?
Vs. Cecil: If only YOU were Shiki's knight in shining armor.
Vs. Golbez: ...You know, I just don't believe you and Cecil are brothers.
Vs. Kain: Wow...not even Joshua could jump THAT high!
Vs. Bartz: *coughcoughFamedMimicGogocoughcough*
Vs. Exdeath: Can't you just shut the hell up about the Void?
Vs. Gilgamesh: I'm sorry, WHAT Enix?
Vs. Faris: Yo ho ho and all that stuff.
Vs. Terra: Are you...alright?
Vs. Kefka: You...leave Terra alone!
Vs. Sabin: You suplexed a train? Really?!
Vs. Cloud: And people say I'M an emo...
Vs Tifa: Don't underestimate me just because I'm an Earthling.
Vs. Sephiroth: "Hero" my foot.
Vs. Vincent: ...I can't say it, it's too easy.
Vs. Squall: Say, that's interesting weapon of yours...
Vs. Ultimecia: Wanna do me a favor and halt the Reaper's Game?
Vs. Seifer: You killed....THE Odin?!
Vs. Laguna: You MIGHT wanna chill out with that gun.
Vs. Zidane: (*sigh*)...Glad that at least YOU can have some fun.
Vs. Kuja: Any experience with Noh dramas?
Vs. Vivi: Magic vs. magic? Sounds interesting.
Vs. Dagger: I'd bet Rhyme'd be excited to meet you.
Vs. Tidus: Know what, I think I need to go to the beach more.
Vs. Jecht: I've already met a guy on steroids. I don't NEED another.
Vs. Yuna: Um....hello....
Vs. Lulu: Another girl who fights with a plush, huh?
Vs. Shantotto: There's no way you're older than me.
Vs. Prishe: No need to hold back, Prishe.
Vs. Gabranth: SO ZETTA SLOW!....Damnit, now it's rubbing off on me.
Vs. Vaan: Yeah, I've been watching too many pirate movies.
Vs. Lightning: Cloudy with a chance of depression, huh?
Vs. Sarah: You and Shiki might be good friends.
Vs. Noctis: I think we might a little in common, Noct...
Vs. Feral Chaos: I'm not losing to a glorified volcano!
Vs. Neku Quotes
Warrior of Light's quote: Does everyone from your world dress like...THAT?
Garland's quote: Reaper's Game or not, you WILL battle!
Firion's quote: Couldn't you be rather distracted with those things on your head?
Emperor's quote: Your world will take me MINUTES to conquer.
OK's quote: Your hair's kinda like mine, you know?
Cloud of Darkness's quote: Tell your friend that her little doll is PATHETIC.
Cecil's quote: I didn't think you could fight with pins alone.
Golbez's quote: Like I would lose to a simple teen.
Kain's quote: Let's see how you fair fighting alone.
Bartz's quote: Reaper's Game? Sounds scary...
Exdeath's quote: It appears YOUR existence is on the line as well...
Gilgamesh's quote: Can I tour your world? Pretty please?
Faris's quote: I'm not some fairy tale pirate, kiddo.
Terra's quote: I'm not sure I understand your technology.
Kefka's quote: Say, I like the Reapers' style!
Sabin's quote: Don't worry, I'm not like that fool Garland.
Cloud's quote: "The Brooding Brothers", it looks like.
Tifa's quote: Who is this "Shiki"? I think I'd like to meet her.
Sephiroth's quote: How pitiful that mere pins give you your strength.
Vincent's quote: Let ME at the Reapers if you're so sick of 'em.
Squall's quote: I'll bet Seifer would get along with this "Beat" guy.
Ultimecia's quote: I'm afraid time really DOES run short for you.
Seifer's quote: So there's a guy out there like me? He sounds interesting.
Laguna's quote: Anorexia much?
Zidane's quote: C'mon, cheer up a LITTLE.
Kuja's quote: My outfit is NOT a "man-thong", you cretin!
Vivi's Quote: You don't get angry like Steiner, do you?
Dagger's quote: Rhyme seems a lot like Eiko, and not just in appearance.
Tidus's quote: Let's do a round of blitzball sometime, 'Kay?
Jecht's quote: So there's a fellow meathead up in your world, huh?
Yuna's quote: Don't worry. There's no reason to be scared, if you are.
Lulu's quote: I'd be interested in contending with your friend Shiki.
Shantotto's quote: Ugh! Where did you get that HIDEOUS clothing?!
Prishe's quote: I think "Neck-u" is more suitable name for you.
Gabranth's quote: Don't mock me, peasant.
Vaan's quote: The sky's the only music I listen to!
Lightning's quote: Don't worry, I also have a friend like one of yours.
Sarah's quote: You kind of remind me of Noel a bit, you know?
Noctis's quote: I take it Shibuya is mostly like Eos?
Chaos's quote: You deserve to be erased from existence!
And those are my Dissidia quotes for Neku. Any thoughts and/or quotes of your own?
Last edited: