Dengeki Online's latest magazine has gone on sale, and in it is a four page spread on Kingdom Hearts HD 2.8 Final Chapter Prologue. The renders for KINGDOM HEARTS 0.2 Birth by Sleep – A Fragmentary Passage – and KINGDOM HEARTS χ [chi] Back Cover were released yesterday and can be viewed here.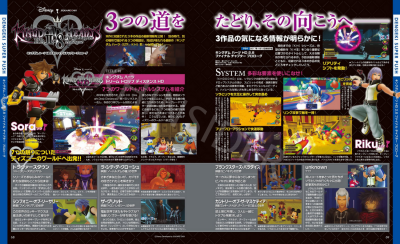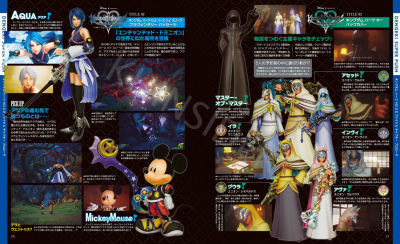 Remember to view the images in their full size in a new tab!
Translations via Goldpanner!
KINGDOM HEARTS HD II.8 FINAL CHAPTER PROLOGUE

PS4 | Expected Release Jan 12 2017 | RPG | Square Enix | 6800 yen (+ tax) | Director: Tetsuya Nomura

>The end of three paths, and beyond… 

Presenting the latest info on this three-in-one title! These three stories, set in different eras and different lands, lead into the awaiting-completion newest title Kingdom Hearts (hereon KH) III…

>Shedding light on the details you want to know about the three titles!

As it holds an important place connecting the KH series so far to the long-awaited new title KHIII, this title is drawing high expectations. Let's check out the main points of the three titles included, as well as the latest information.



TITLE 01: KINGDOM HEARTS HD DREAM DROP DISTANCE

>Introducing the seven worlds and battle gameplay

Sora: Wielder of a 'Keyblade' that can open any lock, he receives a letter from the King and sets off with Riku to see Yen Sid. There he learns of the Mark of Mastery Examination.

Riku: A keyblade wielder who cares about Sora, and fights by his side. Sights set on becoming a Keyblade Master, he sets out on a new adventure with Sora.


KH 3D [Dream Drop Distance], released in 2012, has been remastered in HD and now runs at 60fps, achieving glassy-smooth action. The plot features Sora and Riku as protagonists, and depicts them challenging the Keyblade Master Mark of Mastery Examination so that they may stand up to the encroaching darkness. In order to pass the exam, they must unlock the seven Sleeping Keyholes and acquire new powers! Thus, the two of them set off on a journey to slumbering Disney worlds.



[Bunch of world intros we played this game already we know]

[Gameplay

-you get punted between sora and riku

- free flow action is fast

- link attacks

-spirit raising

-reality shift] 

TITLE 03: KINGDOM HEARTS KEY BACK COVER

>Let's check out the major characters weaving the tale!

The mystery-packed story of the Foretellers and the things happening behind the scenes in smartphone app KH Unchained Key is included as a cinematic work. Set in the earliest era of the series so far, a short story that is very important to the future of the KH series unfolds.


>A traitor among the five Foretellers?!

The plot unfolds with the five Foretellers, leaders of the five forces known as the Unions, at the center. With whispers that there is a traitor among them, the balance gradually collapses under suspicion and doubt.



Master of Masters

The teacher of the Foretellers. He seems to have an evasive personality, and nobody can tell whether all the off-the-wall things he says and does are simple whims, or calculations.


Ira - Unicornis Union

Someone with a solid personality, who hides his face with a unicorn mask. He's teased by the Master for being serious.

[He's studying the Heartless? There's something like a Darkside on that page.]



Gula - Leopardos Union

Someone with a cool personality, who wears a leopard mask. He doesn't have a strong sense of camaraderie, and occasionally shows an individualistic side. A lone-wolf type who hates being bound by particulars?

[It seems that the Tome of Prophecy he received from the Master contains events that will happen in the future, but...]



Ava - Vulpes Union

Someone who seems to have a kind personality, who wears a fox mask. As she is close in age to the Keyblade Wielders, they often speak to her on a friendly level.

[There's a suspicious side to the Master? What sort of resolution is in store, indeed.]


Aced - Ursus Union

Someone with a brave personality, who wears a bear mask. There's a strong side of him that cares too much about strength, and he tends to get carried away with baring his feelings and personal justice. Sometimes he even opposes his friends?

[The type to get fired up over anything? It seems as though he is the angriest upon finding out about the 'traitor'.]



Invi - Anguis Union

Someone with a noble personality, who hides her face with a snake mask. She has the utmost faith in her teacher the Master, and bases her actions as a Foreteller upon her unshakeable loyalty.

[She sometimes takes stock of the situation while concealing her true feelings? She is someone with that sort of deeply thoughtful atmosphere.]
Follow Kingdom Hearts Insider on Facebook, Twitter, and Tumblr for the latest updates on Kingdom Hearts Unchained X, Kingdom Hearts 3, Kingdom Hearts HD 2.8 Final Chapter Prologue and all things Kingdom Hearts!