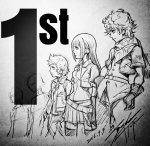 Joined

Dec 26, 2007
Messages

3,619
Awards

8
I say discussion because this is not a theory however what we know or can assume so far as to who these people are and their part in Kingdom Hearts III.

13 Darknesses (Organization XIII)
KNOWN
Master Xehanort- leader/original
Young Xehanort- time jumper/recruiter
Xemnas
Ansem, Seeker of Darkness
Braig
Isa

PROBABLE CHARACTERS
Terra (despite the appearances of Xemnas and Ansem)
Vanitas (because of his singular appearance in DDD)
Terranort (through possible flashback at the beginning of the DDD)
-4 UNKNOWN CHARACTERS REMAIN-

7 Lights (Defenders of Light)
Sora
Mickey
Riku

PROBABLE CHARACTERS
Aqua (based off of Mickey's prediction)
Ventus (based off of Mickey's prediction)
Terra (based off of Mickey's prediction)
Kairi (alluded to during Secret Ending)
Lea (possible through gaining of the Keyblade)

***Note when I saw probable it is not because it is not obvious or because there is not a high chance of it happening it is because there are either unknown circumstances to the character's position in said faction (ex. If Terra is on the light he can't be on the darkness) OR the characters have not yet be named outright as being one of them (ex. TVA are predicted to be on the Light by Mickey by how they will join the light if they do at all is unknown).

Now please discuss your own theories based off of the facts and main assumptions shown above.