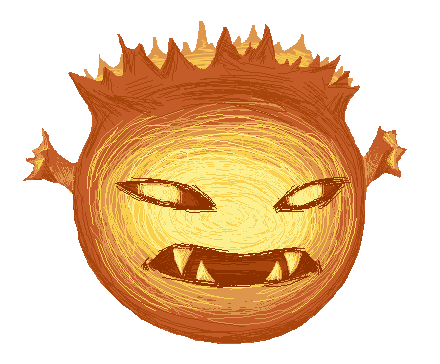 Joined

Apr 13, 2007
Messages

2,842
Awards

1
Age

32
Location
Website
Falling to her knee, the Firekeeper extends her hand to the fire.
Clutched in her long, dirty fingers,
Three sprites,
with darkened cores;
white flames burning forth from its center.
This is Humanity. The fuel of bonfires.
This is the Firekeeper's duty. A role that has been forced upon her.
Lidded eyes; for a quiet moment of reflection.
And she comes to her feet,
hands reaching for flasks hanging from her body.
Each one is handed to an adventurer.
And each Undead face she greets. She asks only one thing.
What is thy name​

Y
ou were cursed, the clerics had told you. Branded with a wicked and evil mark, the mark of the undead. When they found you, you were sick and delirious. You think you can remember the screams of the living. Or was it laughter? Cries of anguish? You cannot be certain; your mind betraying you, thoughts muddled and lost, confused in a torrent of complex and conflicting reports. You could barely gather the will to bring your chin up from your resting place. Your mouth moved to speak. But you could not hear whatever it is you had to say.
T
he Dark Sign, they say; words spoken among them. Had they forgotten you? They seemed far too busy with each other, conversing in hushed tones and hand gestures. The only thing you could recognize was the coat of arms on their tabards. You had seen it before. Though it took you a fair moment to recall the name from the dirty waters of your memories.
T
he House of Thorolund and the mark of the Way of White.
W
hat were they doing here? Wait. You said that. You remember actually saying that. They only came to the homes of those who had died and come back. To those who came back as Undead.
T
hey finally looked to you and one even seemed to smile, kindly, as he nodded his head. He spoke to you. But just as quickly as you had your mind together. It was lost. You could not make it out. It was as if his words belonged to a tongue suddenly foreign to you. And then as a group, they approached you. And when their calloused hands touched your dry skin, your world faded for a great deal of time.
T
he world comes to you, consciousness regained, finding yourself imprisoned, wooden grain underneath you shaking. Was it the jostling that awoke you from your slumber? You are still weak, as you have just barely enough will gathered for you to lift your vision upwards. And immediately you regret the motion, as the world around you swirls and twists, making your guts wretch violently.
T
he back of your head strikes against the bars behind you, to a silent rest. What feels like hours pass, your eyes clenched shut in an attempt to still reality. Only after your momentary respite do you dare open them once more, to try and gather your surroundings. But still, your mind fights against you. All you can make out is the barred window before you. Too high to be reached, even if you stood.
D
awn seems to be staring back at you through the slit, tree tops moving and shifting, motion guiding them in and out of view. Something about the aqua-green landscape calls to you, as you try to lift your hand to it. But your efforts sobered, the sound of steel shifting against steel, your consciousness cracking at the sound. Your hands bound; you dare not struggle against it again.
Y
our thoughts race. You try to pierce the shroud that blankets your psyche, to find common ground and reestablish your sanity.
[OOC]​
Crossing Souls is a Character-Driven roleplay based on the video game Dark Souls, using the setting and lore established subtly through the game world. Some of the major themes of the original story shall be used to lay out a world for you, the players to discover and explore together and we shall be using mediums as unique as the methods the game has used as well.

This will be a hybrid of Messenger and Forum RP, with major events taking place real-time as a group through a messenger program, while minor RP between players can take place on the forums. Major RP events are to be heavily DM driven by myself and combat, ( if and when it takes place, ) will be done with a very casual d20 system, with rules explained to players before any roleplay takes place.

There is a maximum of six slots to be filled, as anymore than that would cause great strife in my ability to manage.
[Requirements]​
Please note, that to be able to participate in this Roleplay, you will first need to have AOL Instant Messenger installed as well as a Google account so you can join in Google Documents. AIM will be used for Major RP events that will require all players to be online at the same time. Two separate chatrooms will be open for the purposes of rolling dice and for OOC banter. GoogleDocs will be used as our grounds for posting our RP. If you have any questions or concerns regarding this, please feel free to either pop me a PM, or speak to me in private. I am very open and willing to work out arrangements for you!

I am also considering using online radio streaming for the sake of atmosphere, but this will only be done if you, the players, are interested in this extra step.

And of course, please post your applications for considerations. I am looking for those who have a great deal of commitment and dedication to seeing a finished product, as I have a large story I wish to see through to the end. An application template is available at the bottom.
[Dark Souls Lore]​
Dark Souls is known for it's extremely minimalistic storytelling, with a very intricate and complex world for the player to explore and discover. For this reason, I'll be providing a few links here for you to reference if you need them. And I consider myself a moderate expert on the game's setting and lore, so if you feel you need to know more, drop me a line. I will also be doing my best to ensure lore cohesion in your application, so if I feel something does not mesh well, I shall speak with you privately. I don't bite!
GENERAL LORE:
http://darksoulswiki.wikispaces.com/Lore
COVENANTS:
http://darksoulswiki.wikispaces.com/Covenants
[Rules and Guidelines]​
I am a fairly relaxed DM and I generally trust my players to know their bounds and stay within them, but I will quickly list three BASIC things to understand.
DM has final say. Always -

This one is simple enough. If ever I need to make a calling on something during, after, before our RP, it is absolute. This is not so much a power trip on my part, as it is keeping story and player cohesion.

Powergaming, Metagaming will be punished -

This is simple enough. Keep IC when you are roleplaying. Do not use OOC information to influence the game. If I find you are crossing the OOC/IC line too often, I will find reason to remove you from this experience.

Your character is undead -

There's no exceptions to this, I am sorry. When you apply, please make sure your biography ends upon your character's death. I will fill in the blanks myself to lead up the story to the established present.
[Application Format]​
[Name]:
Generally, your surname is kept extremely private to those close to you and your family. Formally, it is courteous to greet, reference or speak of someone in the order of title, first name, and birthplace. Examples being "Solaire of Astora" "Knight Lautrec of Carim". Casually, just first names are used. It is extremely rude to use someone's surname in public company.
​
[Age]:
Simple enough. The character's age upon their death.
​
[Sex]:
What your character identifies as. Male, female, transgendered, genderqueer, etc. etc.
​
[Homeland]:
What is your character's birthplace or identified homeland?
​
[Faith]:
What Covenant, if any, does your character belong to? certain Covenants are unique to the land of Lordran. These are the Princess' Guard, the Blade of the Darkmoon, Forest Hunter and Dark Wraith. The most common faiths outside the land of Lordran are Way of White and Warrior of Sunlight. Gravelord Servant, Chaos Servant and Path of the Dragon are considered heretic cults by the majority of mainstream humanity. Please note, that picking Way of White will cause great conflict with my storytelling and I will be extremely picky of any applications using this as their character's covenant. Don't be afraid to bring it forth, I will speak to you in private if there is need.
​
[Brief Personality]:
Keep this relatively short. Three to four sentences should do. Give me as best a window into your character as possible.
​
[Physical description]:
How does your character appear to others? Please keep this description relevant only to their human form.
​
[Brief History]:
Please keep this at maximum, two paragraphs. Please describe your character's life, up until the time of their death. What did they do in life? Where and how did they die? Leave their history post-undeath completely blank.
​
[Skills]:
Please give a brief list of what skills your character is handy with. These can be as simple as farming, smithing, swordplay, alchemy. Keep it relevant to your character's backstory. This is not a High Fantasy romp to Mordor.
​