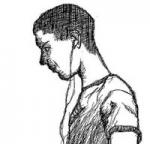 Joined

Apr 21, 2005
Messages

3,777
Age

30
Post theme: Metal Gear Rising OST - Collective Consciousness (MG Excelsus) - YouTube
Cyberevolution​
The year is 2480. Cybernetic augmentation has become commonplace, to the point where people with only minor augmentation are considered a minority. Overpopulation has reached a peak, and the vast majority of the known world is covered in urban infrastructure. Resources have become scarce: Recycling is compulsory, and heavily enforced. Within the various blocks of continental cities, Manufacterism is rampant, and customers of low-price low-grade parts produced by Volkskorp have begun forming militant and political groups to combat and campaign against the discrimination. The various currencies of many countries have been replaced with the Watt, a standard measure of electrical measurement, due to the rise of a severe shortage of electricity.
The peak of the energy crisis is heralded by the election of the first full-body cybernetic president of the United City of America, John Loganson, a fanatical right-wing politician. The Wattage taxation rate and extreme rationing measures imposed by his party have caused a great deal of dissent amongst the populace, but have also shown positive results.
The suggestions of several prominent opposing politicians to organize expeditions beyond the known world have been met with ridicule by Loganson and his cabinet, with repeated citations of fact that even the City of Britain have report only barren wastes beyond their eastern boarders, and that the resource wars of the 2200's stripped the European lands of everything of value, and the deforestation afterwards turned them into unlivable wastes.
One of the most controversial topics for Longanson are the sudden disappearances that began following his election. The party has released several official statements too the tune of 'Large violations of electrical legislation are met with equally large punishments.' No further investigations have been launched, though the disappearances continue.
You are a citizen of the United City of America. Your station is unimportant. Your job is irrelevant. Who you are, how you think, what you do, what you are, where you are: None of these things matter. What does matter is what you have begun to realize -
Something is not right.
Any and all questions should be directed to PM. Questions and answers that will be beneficial to others will be posted here for their perusal.
No template or biography is necessary. You guys know the drill. Don't powergame, don't godmode, keep your characters and play true to the setting.
Let's not muck around. There is no discussion thread, there is no interest check. This is an RP that we will or won't play, not just talk about playing. The overall theme can be summed up as 'Just post something and let things sort themselves out.'